Alex Gildzen
CURRENT SEAS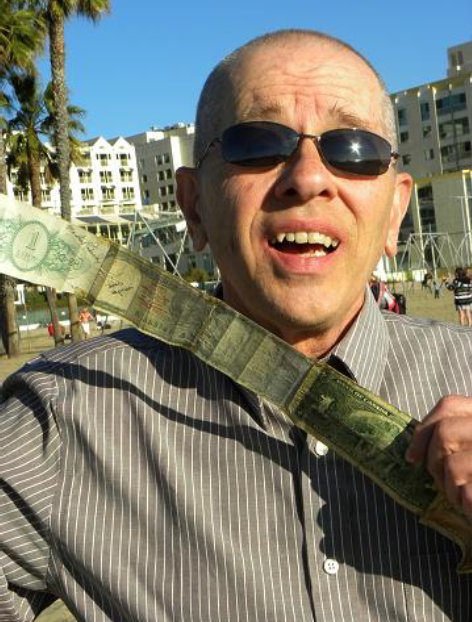 The Century Dimes
WHAT I WORE ON THE BLUE SWING AS 1999 BECAME 2000
a medallion containing Grandpa Kovach's 1878 silver dollar
a Darin Bill silver bracelet
black briefs bought in Athens in 1992 & worn to Bill Clinton's
1993 inauguration
white button-down shirt previously ownd by Ben Basham & then Dimitri
Karageorgiou with my parents' engagement snapshot in the pocket
khakis purchasd in Chicago in 1999 with 5 dimes in each pocket
Jay Parsell's belt
alpine sweater brought from Switzerland by Regina Yando in 1961
cotton socks purchasd in Tricala in 1987
boots bought in Buenos Aires in 1988
Dimitri's Turkish leather jacket with Richard Martin's last letter in a pocket
gray wool scarf knittd by Julia Waida
Provincetown baseball cap
from Alex in Movieland :
2000 jan places The Century Dimes (TCD) on floor before Marsden Hartley's "Madawaska -- Acadian Light-Heavy" at Art Institute of Chicago feb lines up TCD on imprint of Betty Grable's leg at Grauman's Chinese Theater mar observes Ira Joel Haber create a cock & balls out of TCD on bar of Joe Allen in NYC apr photographs his mother handing TCD to his father in Elyria may traces TCD on an envelope which he mails to Stephen Sondheim ("Rubbings #1") jun celebrates first full day of summer by submersing TCD in public tub at Ten Thousand Waves jul observes Regina Yando make a zia sign out of TCD on Turquoise Trail aug observes Thomas Ashcraft stack TCD on the monetary vitrine of "Universal Gum & Tradecake" sept lines up TCD on grave of John Kennedy Toole in New Orleans oct configures TCD into an arrow pointing to Allen Memorial Art Museum in Oberlin nov makes a circle of TCD under his plate at Pooka Longley Glidden's Thxgiving dinner dec watches third episode of "Queer as Folk" with TCD in a zigzag on top of television
2001 jan wraps TCD in a black armband which he wears on Inauguration Day feb rolls TCD toward Melina who runs mar poses with TCD for Stathis Orphanos at Chateau Marmont apr creates a circle of TCD at Plan B which he steps into for his first Santa Fe reading
may
lines up TCD on curb in front of home of his parental grandparents in Lorain jun buries TCD in "holy dirt" at Sanctuario de Chimayo jul observes Jean-Claude van Itallie throw TCD in imitation of I Ching aug observes R. B. Sprague place TCD on wheelchair symbol in a handicappd space of a Cerrillos Rd parking lot sept places TCD on ground of four states at same time oct spreads TCD on conference table in Frank Lloyd Wright's office at Taliesen West nov stretches TCD between stars of Richard Harrison & Guy Madison on Palm Springs Walk of Fame dec positions TCD above the aurei of Marc Antony in Cleopatra exhibition at Chicago's Field Museum
2002 jan piles TCD on Bryan Ockert's forehead in front of Gipsy in Las Vegas feb fondles TCD while seeing "Adventures of Felix" at Out Far in Phoenix mar arranges TCD on roots of fig tree at Mission Santa Barbara apr snakes TCD up arm of Gus Foster in Taos may presses TCD against James Dean's photo at Hotel Paisano in Marfa jun carries TCD past White House & posits them on Pennsylvania Ave in front of stage for Capital Pride Festival jul rests TCD on section of "Arc of the Burning Forest" which Alan Sonfist will mail to President of the United States aug loans TCD to Jim Provenzano who pockets them during premiere of "PINS" in San Francisco sep hears Jacob Leed sing "That Old Black Magic" while holding TCD in Cambridge oct carries TCD thru Independence Hall & past Liberty Bell
nov rubs TCD against characters on Poetry Stone at Portland Japanese Gardens dec observes Coby Leed place his cap on bridge overlooking Multnomah Falls & arrange TCD on it
2003 jan sits on TCD while hearing Mel Ulrich at Austin Lyric Opera feb commemorates first anniversary of T.R. Queen's death by making a square of TCD on the artist's tondo "Alex Gildzen, James Dean and the Vanilla Angel" mar reads Frank O'Hara's "Rhapsody" to John Ericson while the actor holds TCD apr wakes in Monterey on his 60th birthday with TCD under his pillow may observes Matthew Wascovich circle TCD with incantations under a full moon on a bridge over RTA tracks in Cleveland jun makes a V of TCD on box office in front of Capitol Theater in Greeneville TN jul presses TCD against glass that separates him from Flor Garduno aug grasps TCD to his heart while gazing into the eyes of Grace Slick sep places TCD on piano keys just playd by Peter Cincotti in lobby of La Posada de Albuquerque oct observes Thurston Moore line up TCD beneath d.a. levy's portrait at Bowery Poetry Club nov observes David Meredith scatter TCD on a catalpa stump on Palace Green in Colonial Williamsburg dec balances TCD on fingers of Brian Kamerzel on a soundstage at Greer Garson Studios
2004
jan
posits TCD on edge of tortoise warren at Red Rock Canyon in Nevada
feb
buries TCD in sand of Sebastian Beach in Fort Lauderdale
mar
observes Bill Berger place TCD on case containing Frank Capra's Academy
Award in Palm Springs
apr
arranges TCD on manuscript of James Ellroy's The Black Dahlia at Kent
State University Libraries
may
stacks TCD in his navel while lying naked on Makena Little Beach in Maui
jun
spreads TCD on a picnic table at Elyria Park in Denver
jul
makes a crookd line of TCD on Marginal Way in Ogunquit
aug
puts TCD on a rock at City of Rocks
sep
slips TCD into his shoe while facing Marilyn Monroe's red stilettos at Bata
Shoe Museum in Toronto
oct
raises a fistful of TCD upon John Kerry's arrival at a campaign rally at Lorain
County Community College morning after second presidential debate
nov
observes Tom Beckett & Steve Tills divide & fondle TCD over dinner at Ray's
in Kent
dec
holds TCD while being photographd with John Waters in Palm Springs
2005
jan
lays TCD on steps on which Gianni Versace was murderd
feb
positions TCD beside bottlecaps on Robert Rauschenberg's "Publican – Station VI" at Godt-Cleary Projects in Las Vegas
mar
observes Matthew Jablonski in Elyria form a capital E from TCD
apr
makes a circle of TCD in middle of Gate Temple at Joseph Manigault House in Charleston
may
observes Todd Moore place TCD on Alex Gildzen brick in Cathedral Park
jun
scatters TCD at base of Gateway Arch in St.Louis
jul
hands TCD to Kent Taylor on BART under the bay
aug
celebrates Myrna Loy's 100th birthday by observing Jack Ramey place TCD on her autographd portrait in A Pictorial History of the Talkies
sep
presses TCD against a surviving wall of Murrah Federal Building in Oklahoma City
oct
observes Maggie Anderson arrange TCD on The Book of Java at Starbuck's (which occupies the space that once was Captain Brady's) in Kent
nov
marks Thxgiving by making a T of TCD on bridge over Arroyo Chamisa
dec
makes a necklace of TCD on neck of Kimberly Nichols in Palm Springs
2006
jan
observes Jodi Perselle Warman make quotation marks from TCD on sides of her plate at Plaza Café
feb
makes a triangle of TCD on London Bridge at Lake Havasu
mar
observes Alicia Metcalf Miller hold TCD in her left hand while inscribing his copy of My Life on Mars with her right
apr
brushes TCD against cheeks of Ignatius J. Reilly statue in New Orleans
may
observes Jim Cory rub TCD against cherub butts on sundial in Rittenhouse Square
jun
places TCD on seat of Robert Nolan's 1955 Ford Victoria from which he was thrown 46 years before
jul
makes an H (for Hitchcock) of TCD on Presidential Trail facing Mt. Rushmore
aug
places TCD under Alberto Rios' "The Museum Heart" in a window of Egyptian Theater in Boise
sep
observes Richard Balthazar surround a graptoveria with TCD at his booth at farmers market
oct
checks into Beat Hotel in Desert Hot Springs where he makes a B of TCD on William Burroughs' desk
nov
submerges TCD in waterfall in front of Ziff Ballet Opera House in Miami
dec
films TCD rocking on Gertrude Duryea's rockingchair
2007
jan
traces TCD to make a halo around Todd Colby on one of "85 Envelopes"
feb
hands TCD to 10 random people at Steve Lowe's memorial service at Bubbling Wells Ranch in Desert Hot Springs
mar
scatters TCD on Sunset Cliffs in Ocean Beach
apr
celebrates his 64th birthday by making a pierogi shape of TCD at West Side Market in Cleveland
may
places TCD on stage of the Lensic before Gary Snyder's appearance
jun
observes Garold Gardner circle Marta Becket's feet with TCD at Amargosa Opera House
jul
observes Roberto Marquez eat pancakes on the plaza on the 4th with TCD beside his plate
aug
places TCD on Johnny Swing's Nickel Couch
sep
presses TCD against thorns of Queen of the Nite at Tucson Botanical Gardens
oct
observes Michael McCafferty hide TCD in 5 moveable walls at Seattle Art Museum
nov
makes a B (for Elizabeth Short) of TCD in front of Florentine Gardens in Hollywood
dec
observes Mandad place TCD on the toes of his sculpture "Foot" in Palm Springs
2008
jan
places TCD at base of sponge diver statue at Tarpon Springs
feb
holds TCD while listening to Barack Obama at Santa Fe Community College
mar
observes Bobb "Neoboy" Maestas arrange TCD on a chalk drawing at the base of the monument in Santa Fe Plaza
apr
observes Todd Hughes make a design of TCD on the cover of Gildzen's copy of It's All a Movie at lunch at Tam O'Shanter
may
observes Sidian Morning Star Jones observe Stanley Krippner balancing one of TCD on his nose at Aztec Café
jun
observes Sal Kovach make a G of TCD on couch in redesignd breezeway at 429 Winckles St in Elyria
jul
makes a Z of TCD on a rock striation at Zion National Park
aug
presses TCD against the plaza bandstand while Buffy Sainte-Marie sings
sep
deposits TCD at intersection of Hollywood & Vine
oct
observes Henry Van Dyke play with TCD while drinking Spanish sherry at Morgan Dining Room in NYC
nov
observes Kenneth Carr position TCD at Lewis & Clark's saltworks in Seaside OR
dec
inserts TCD into lining of his James Dean tie which he wears to Zia Diner with the dinner group
2009
jan
hides TCD in folds of flokati rotting on rocks in the backyard
feb
lays TCD in furrows of "Dad's Last Garden"
mar
stacks TCD on Bernique Longley's "Goddess" on 10th anniversary of the artist's death
apr
makes a C of TCD on steps of Castenada Hotel in Las Vegas NM
may
places TCD on ledge beneath plaque in memory of Daniel Thompson in Cleveland
jun
stuffs TCD into his jockstrap for a cruise around balcony of Coral Sands Motel in Hollywood
jul
reads Samuel Fuller on flights to Cleveland while TCD float in his suitcase
aug
crowns Igor Stravinsky statue at Santa Fe Opera with TCD before hearing Christine Brewer with support from Tom Corbeil & Matthew Morris
sep
makes an F of TCD on the play trail at Freedom Valley in Ohio
oct
observes Gary Sielaff position TCD on a jack o'lantern in front of Blue Moon in Las Vegas on Halloween
nov
makes an S of TCD on Sophie Hause's shortsnorter on Santa Monica pier on Thxgiving
dec
perches TCD on Las Olas Grand 29th floor balcony railing overlooking Winter Fest boat parade in Fort Lauderdale
2010
jan
fumbles with TCD between photographing Paul Reubens after his performance at Club Nokia
feb
ends TCD project on discovering 2 coins missing
blog entry
Arroyo Chamisa (22 feb 2010):
big news from Palm Springs!
"every day a little death." that Sondheim song is on my mental playlist. never know when it'll surface. over the weekend I experiencd another little death. I was at one of the pools at Inn Exile with the small plastic bag which contain the Century Dimes (TCD). in my writing I use little punctuation. & I can't remember using an excalmation point which gets such overuse it's lost its punch. but I'm forever thinking of new things to do with TCD. so my plan was to use them to form an exclamation point in the resort's steam room. I automatically count the dimes when I remove them from the plastic bag. it's also my habit to count them before returning them. to my shock I discoverd but 8 of the coins. immediately I returnd to their last outing. during a performance of "Pee Wee's Playhouse" they remaind in their bag in my pocket. following the show Paul Reubens did a q & a for special fans. I didn't imagine I'd be able to directly involve Reubens in my project & I was right. never a multi-tasker I concentratd on photographng Reubens but at the same time I did take out the dimes. the question is did I remove them from the bag? I truly can't recall. if I did then it's possible the missing coins were swept away by the Club Nokia janitor. if not I lost them even earlier. after counting the remaining dimes enumerable times I calmd myself & allowd chance to work in the piece.
obviously TCD is suddenly at an end. the surviving 8 are now incomplete -- like seeing the Andrews Sisters on Broadway after LaVerne had died. I expectd to be finding things for TCD to do on my deathbed. but I won't live thru the whole century anyway so 2010 contains an important number for the piece. I'm at ease with the work's demise. it gives me a shove to finish Current Seas which opens with the work. what to do with the survivors? the archivist in me won't allow them to disappear even if they lack the power of all 10. perhaps I'll commission a jewelry-maker to use them in a bracelet. or find a bookbinder who'll employ them in a limitd edition of TCD. that's a whole new project. every day a little death... it's more than a song.
John Kovach's silver dollar
in 1999 Aunt Sophie gave me a medallion
containing her father's 1878 silver dollar.
I wore it when the 20th century became the 21st.
then I used it in a scanner print
"01 / 01 / 01 : print #2"
which is on the cover of Making Circles.
blog entry
Arroyo Chamisa (14 july 2006)
"pennies from heaven"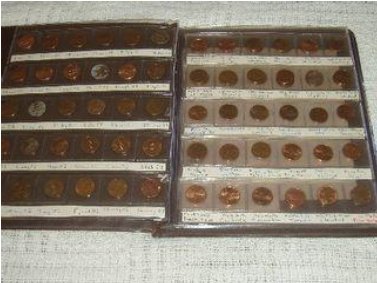 another project: I'm not a big celebrator of Xmas but in 2000 a friend suggestd dinner. but she didn't offer to pick me up. so I walkd in the cold the 50 minutes to town. I guess I was feeling a bit dejectd so I was looking down instead of out & around. as I was crossing Sandoval St I spottd a penny. it's been sd picking up a penny is good luck so I did. but this one was the start of a new piece. I found a coin collector's album & keep found pennies from my trips with notation of where & when. so far I have 84 pennies.
pennies from heaven: part 2
(the leaving)
Rm 215
Coral Sands
Hollywood
23 aug 10
under bed
Gallery
"Colossal Statue of Tutankhamun"
Denver Art Museum
12 sept 10
on bench
Inn Exile
Palm Springs
5 nov 10
on top of pyramid fountain
Westlawn Cemetery
Santa Monica
19 nov 10
on Glenn Ford's grave
Blue Moon
Las Vegas
Xmas 10
on top of grotto
Forecourt
San Diego Museum of Art
21 jan 11
under Alexander Calder sculpture
Bush St. entrance
Chinatown
San Francisco
5 mar 11
in mouth of dragon
The 1943 Pennies
in 1943 the US Treasury struck pennies in steel to save copper for the war effort. they were then coatd in zinc.
in 2003 Jeff Wietor gave me as one of my birthday gifts an antique coin purse in one side of which were 10 of the pennies from my birth year.
on the last day of 2003 I'm mailing each of those pennies to someone who I instruct to mail it on to someone else & on & on till it returns to me.
I look forward to seeing if the 10 steel pennies & this page come back to me by my 61st birthday (25 apr 2004).
* * * *
I sent the above text in an envelope with a penny to the following:
Bob Barnes TX
Jay Critchley MA
J. B. Dodd NC
Judson Kinkaide OK
David McDaniel NY
Todd Moore NM
Soren Murray CA
G. J. Smullen WI
Matthew Wascovich OH
Chuck Welch MN
it didn't take long for the postal service to return Welch's with the note "attempted / not known." I got the Crackerjack Kid's address from an online mail art site.
it was after my birthday that I finally receivd penny #5. here is the list of those who took part in the adventure:
David McDaniel New York NY
Richard Northcutt New York NY
Jody Lindsey Norman OK
Sharon Lessly Knoxville TN
Jennifer Miller Austin TX
Elizabeth Warren Austin TX
Ava Young Oklahoma City OK
Bill Archer Mesa AZ
Tim Ormand Sampsonville SC
John Worsfold Cedar Park TX
the remaining 8 pennies were never returnd.
Aunt Sophie's Short Snorter
during WW2 servicemen began signing banknotes as a souvenir. often a whole squadron wd sign. sometimes these bills were taped together & reflectd the countries in which the troops servd. the name given to this phenomenon was the short snorter. one of the best known belongd to Harry Hopkins & was signd by such luminaries as FDR & Churchill & Paton.
when I was a child my godmother Sophie Hause gave me hers. it had been signd by members of the India Burma Theater. in 1955 or 1956 I took the item to Eastern Heights Junior High School for a version of "show & tell." at this time I askd some of my fellow students as well as teachers to add their autographs.
this is the signature of Susan Kirby: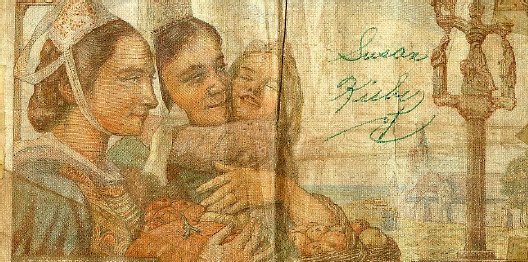 she was my first contemporary to die. during our initial year of high school something calld Asian Flu swept thru & Susan died. I can still see her in her coffin.
& this is the signature of Martha Radachy: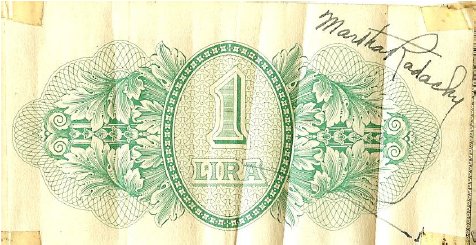 she was one of the most important teachers in my life. she brought art & music & poetry alive.
after sharing Thxgiving dinner in 2009 Bill Berger did a photoshoot of me with the shortsnorter on Santa Monica pier.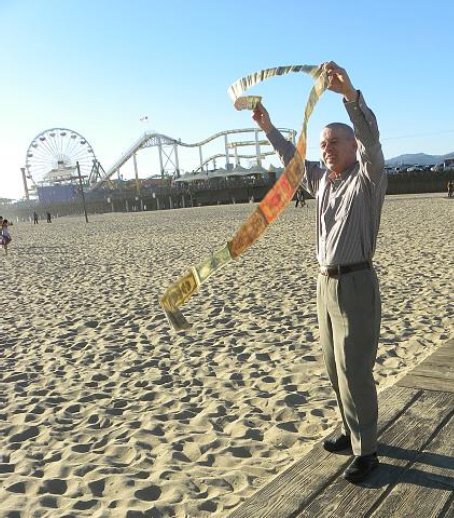 Bridge Dollar
in feb 2006 I went to Lake Havasu to see London Bridge. as I walkd over it I made a triangle of the Century Dimes.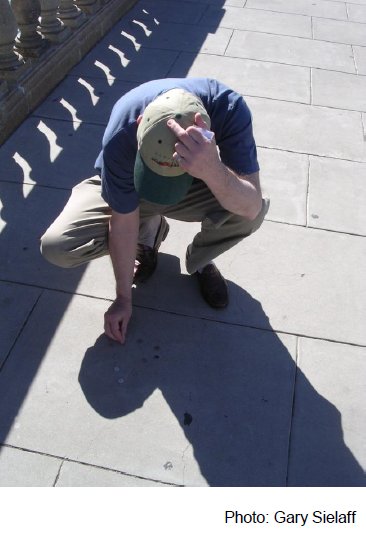 Photo: Gary Sielaff
on the way back I lookd down & saw a folded bill which I pickd up.
* * * *
after waking at Coral Sands Motel in Hollywood on my 65th birthday I walkd naked onto the balcony & rippd the dolllar along its creases into 4 pieces.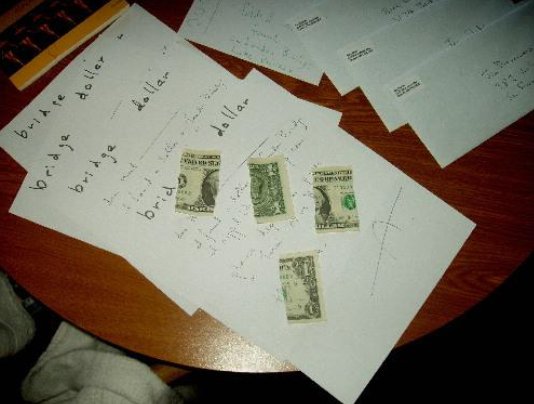 I put each piece into an envelope with a letter addressd to someone in a city with a bridge I'd crossd & askd that person to deposit the piece on that bridge.
recipients & requestd bridges were:
Bree Cleveland Lorain Ave Bridge
Mark Bloch NYC Brooklyn Bridge
Jim Provenzano San Francisco Golden Gate
Tom Shales Washington DC Arlington Memorial
later in the day I maild the requests at Culver City Post Office (across the street from the former MGM Studios) where I presume my boyhood fan mail arrivd.
Photo: Bill Berger
on 1 may 08 Bree sent me:
"dollars still"
a poet friend asks me to toss a dollar shard
over the bridge between erie banks, and i oblige
here, here, old lake erie!
erie goddess who slakes and takes our spills!
old lake erie goddess of the bad hangover,
we are hung on your last utterance, as cars
speed by on their own pulses do get hung on
dirty axles that hum . . .
your drone or shrill gull answering was superfluous!
dear erie,
we only meant to spill some meaningless currencies
into the filler of east and west sides of a falling city
in the midst of a country collapse
of the dollar
of the retirement plan
of the make it stay a little longer,
that sentiment, let this dollar found elsewhere settle in to
my shard erie goddess sediment--- there is a crater
on public square
let us bring our tv sets into it, we will bring our camp-chairs
and wait for the same old constructions,
poetry sentences
carried out , , ,
to never be dug up or got
to not be used for purchase
i do not even desire strong footing
these days, it is enough to make a wish
for some brother
to do well,
and not bank on but know know know
someone new in new mexico who knows my own
old lake goddess erie and thinks
fondly enough to slough a part dollar off his jacket
into its bind.
* * *
so far none of the men askd to participate have sent documentation of what they did with their portions of the bridge dollar.
---
BACK TO BEATSUPERNOVA ARCHIVES
---