hello folks! yes i'm doubly ignernt. i've signed up on facebook and myspace. good Lord help me. if you want to be my friend (this is Mister Rogers Neighborhood junior high bullshit but yes i'm doin it so go ahead and kick my ass and get it over with) if you want to be my friend give me a hug and a kiss on the cheek and go to:

this similar to early sexual encounters. tryin to figure out the right button(s).
it may take weeks/months but i'll eventually get myspace/facebook full throttle. i'm stubborner than a damn mule plus i'm a workaholic but it ain't work cause as many of you know i've been livin my dream for 20 years so it's all play all fun and every day is a holyday.
thanks!
have fun. what a beautiful day!
Ron
headquarters
p.s. altho there's been delay, my official website,
www.tappingmyownphone.com
, still being overhauled. should start seeing changes tomorrow, 2/15/08.
"If you can't talk about everything
what's the use of talking about anything." Ron Whitehead
We are The Storm Generation!!!
---
The Sound of Fall ing Snowflakes
Christmas Eve, Cherokee Park
by Ron Whitehead
On December 23rd, late, a little before dark,
snow started falling in Cherokee Park. It snowed
all night. My brother Brad and I slept in the unfinished
attic. Through the night I listened listened listened
to winter's wind whistling through the cracks in
our walls. I listened listened listened to winter's
wind weaving songs accompanied by the cedar
and pine trees surrounding our home my home.
Before daybreak, Christmas Eve, I heard Mama
and Daddy downstairs, Daddy letting our dog,
Old Blue, out the back door for his morning romp
through Cherokee Park. Then I heard Daddy opening
the front door to get the Courier-Journal. I heard
Mama in the kitchen cooking breakfast. She was
singing, quietly, "Amazing Grace." Mama was a
a good singer. She had a gentle alto voice. I smelled
bacon and biscuits and gravy and coffee. Yes I was already
drinking coffee. Started when I was 6. I woke Brad up.
He was a sound sleeper. I said, "Hey, wake up. Let's
go see how much snow we got. Hey, get up. We've got
to get Mama and Daddy Christmas presents. Maybe it
snowed enough to go sleigh riding. Come on, Mama's
cooking breakfast. I'm going down." Brad and I had
breakfast with Mama and Daddy. As always Mama's
cooking was delicious. We ate every crumb. Brad
licked his plate. Daddy left for work. Brad and I helped
Mama clean the kitchen then I stepped into the living
room. The blue and green lights on our Christmas tree
filled me with peace with happiness. I said a short prayer.
"Thank You Dear God for my family. Thank You." I put
on my hat, coat, gloves and grabbed my walking stick.
I told Mama and Brad that I'd be back in an hour. I stepped
out the door, crossed the street and headed into Cherokee
Park. It had snowed over a foot during the night and giant
flakes were still falling. The snow wasn't letting up. I walked
and walked and walked. I was in awe of the beauty, all the
beauty that surrounded me. I lost track of time. I found
myself in a field surrounded by woods. All round me the
wind whispered whispered whispered through the limbs
through the branches of the barren trees, the wind whispered
whispered whispered through the fur of the evergreen trees.
A lone crow cawed in the distance in the distance searching
its way home home home. It was then I realized that I was
hearing a sound louder than any other, a loud but gentle
and soft sound, the sound of falling snowflakes, the sound
the sound of falling snowflakes falling snowflakes snowflakes.
copyright (c) 2008 Ron Whitehead
We are The Storm Generation!!!
---
Lord help me i've signed on to Facebook
Lord help me you all yes i'm kickin my own ass yes i've signed on to
Facebook so i'm now tryin to figure it out oh ouch ugh moan groan
you know i'm technologically challenged but i'm shifting major gears
proactive
takin bull by horns forging new paths
into unknown
simplifying
rebirthing
redirecting
i'll never be the same again
help!!! ha yeeeehaw!
Ron
idiot poet




We are The Storm Generation!!!
---
Ron Whitehead Updates/Corrections/Deletions/Additions
hello my dear friends!!! thank you for being my friend. the greatest gifts are family and friends and my friends are my family. i love all of you. love really is all there is. everything else is a temporary distraction.
2008 closes. 2009 right around the closest corner.
where have we been? so many places. where are we. here now. where are we going? we make plans but only the wind and the angels know for sure how much longer we will endure how much longer we will be able to take advantage of this glorious opportunity to grow our souls.
here's a handful of Updates/Corrections/Deletions/Additions:
1) not sure what the hell's going on with my website and SOUTHSIDE website. might shut both down and move into one myspace. i abhor myspace but might make the move so i can maintain it myself and don't have to rely on anyone else. stay tuned.
2) my longtime Iceland friend Michael Dean Odin Pollock, one of the best guitarist singer songwriters on the planet, has moved in. he'll stay till mid-May. in June we head to Iceland, Portugal, Spain, and Morocco. Michael gonna buy cottage in Portugal. we'll make that out europe home base. we'll spend our days nights performing, drinking red wine, eating fresh seafood and beautiful women. hope to keep my apartment here as usa home base. i've lived here for 5 years. cept for the old western Kentucky farm (now gone) where i grew up this my favorite place i've ever lived.
3) last Hangoutology of 2008 (& maybe ever) will be friday december 19th 9pm to 4am right here 1520 Cherokee Road #10 zip 40205 cell 270 403 6941. night of music poetry collaborations of every kind bring musical instruments red wine and whatever makes you feel good mainly friendly creative energies.
4) i'm looking for 2 new roommates. Marcus and Lisa and Jen are moving to new places. it's been awesome sharing headquarters with them. they'll always be friends. if you're interested in dwelling in the realms of the creative imagination then stop by or email,
ron@tappingmyownphone.com
, or call, 270 403 6941, and i'll answer any questions you have.
5) New Year's Eve Party to not miss: Headliner's Music Hall Lexington Road Louisville Kentucky: Honey Highway, Cornbread Mafia, Johnny Berry & The Outliers. are you kidding me?! i'll definitely be there!!!
6) SOUTHSIDE & HONEY HIGHWAY concert saturday january 10th 11pm to 4am at
The Hideaway on Bardstown Road Louisville Kentucky
7) i'll be a featured poet at world's largest poetry festival mid-february Nicaragua.
8) new book and cd releases planned for 2009. busy working on several exciting new creative projects.
9) Sarah due to have baby on Christmas. please send them loving healing creative energies.
sarahelizabethky@yahoo.com
. 270 403 5322.
i thank each and every one of you for your love, friendship, support. remember to nurture and support your friends. be a good neighbor. please keep me posted on all your happenings and you know i'll do the same. every day is a holiday a holy day so by way of saying Happy Holydays i leave you with the poem i wrote with His Holiness The Dalai Lama:
Never Give Up
never give up
no matter what is going on
never give up
develop the heart
too much energy in your/our country is spent
developing the mind instead of the heart
develop the heart
be compassionate
not just for your friends
but for everyone
be compassionate
work for peace
in your heart
and in the world
work for peace
and i say again
no matter what is going on around you
never give up
never give up
never give up
i thank each one of you (the best prayer ever is THANK YOU!!!).
may we all be blessed forever
Ron Whitehead (come and hangout anytime)
december 2008/january 2009




We are The Storm Generation!!!
---
I'm A Bigger Rat Slut Than You Final Hangoutology 2008!!!!!!!! by Ron Whitehead

I'm A Bigger Rat Slut Than You Final Hangoutology 2008!!!!!!!!

calling all ultra creative rat slut bitches and bastards!!!!!!!!
yes this gonna be the final rat hangoutology of 2008 don't be late you rat muthafucka!!!!!!!!
friday december 19th 2008 9pm to 4am
brang big bottles red rat wine and whatever else makes you rat happy yo rat mammy yo rat pappy!!!
and if you gotta rat track for our new Lousville Rats 
RATSTYLE 
cd
then brangit so we ken here it and mayB incloodit on
the new Louisville Rats cd.
ok. theme  for final official hangoutology is 
LOUISVILLE RAT SLUT
so
dress like you usually do
be yourself
you LOUISVILLE RAT SLUT
see you here
happy new year
have fun
we always do
King of The Rat Underground
Ron
headquarters
1520 Cherokee Road #10
40205
cell 270 403 6941






"I have long admired Ron Whitehead. He is crazy as
nine loons, and his poetry is a dazzling mix of folk wisdom
and pure mathematics."  Hunter S. Thompson 
We are The Storm Generation!!!
international hangoutology & storm generation & SOUTHSIDE headquarters
www.tappingmyownphone.com
 

---
where she is my heart is
i am gone gone gone
for sarah
by ron whitehead
waterfall from windridden holed roof
december 9th cherokee park kentucky wind
thrashes branches gainst broken windows walls doors
final fall leaves stubbornly cling
drumhead genius einstein stares from wall
from cross the memoried room bedroom
through artifact walls through stormy windows
i hear her sing i feel her heart next to mine
and know know that the end is close by
where she is my heart is
but she ain't with me now
hasn't been close by for months months months
so far forever far away due to have
her baby Stone our baby Stone
but with the wrong daddy
so far away beyond pounding kentucky rain
beyond beating kentucky late fall early winter wind
miles upon miles upon miles away she is and
where she is my heart is
where she is my heart is
where she is my heart is
and there's a big muscled chance i won't
make it through won't make it through
this stormy day this stricken night
i don't want to live anymore
dear god if my job is done please take me home
i don't want to live anymore
i don't want to can't live without
my true love my only love i pray
dear god wake her up today help her see
help her hear the angels sing
help her hear the angels sing
our song our angel song help her find
her way back her way back
her way back home to me to me to me
where where where
where i am her heart is
where she is my heart is
where she is my heart is
without her without her
i am gone i am gone
i am gone gone gone
Ron Whitehead
december 9th 2008
kentucky
aha
copyright (c) 2008 Ron Whitehead
"I have long admired Ron Whitehead. He is crazy as
nine loons, and his poetry is a dazzling mix of folk wisdom
and pure mathematics." Hunter S. Thompson
We are The Storm Generation!!!
international hangoutology & storm generation & SOUTHSIDE headquarters
---

4th person singular
The Adventures of Brain Man

an alchemical story 
(a work in progress) 

by Ron Whitehead 


A Ruin I 

at Howth I stand looking to sea
one purple crocus at my door
a ruin I have few walls
left to secure myself from storm
bold I stand vines to mortar stretch

spring, a ruin I wonder enthralled
by wind and rain sun and sea
ships see I come and go
but I remain a ruin

rumination filling cracks gaping
low and high windows doors roof
all gone only angel song and me
a ruin I you me all one we be



The Other

I told you I am the oldest of six children; my parents Goliath and Grendel, my younger brother Muscle Man, my sisters Lamia and the Three Furies, but I forgot to mention the Other, the shadowy figure, the older brother I never knew who left home when he was sixteen never to be seen again and only heard of in newspaper reports, magazine articles or from so and so saying they saw him dropping into some dark alley or slipping into a second hand bookstore. He never wrote so we never knew where he was. He studied for two years – after leaving home – at Oxford on a Rhodes Scholarship, won all kinds of academic awards: ESU and JBE scholar awards and writing awards but we didn't go to any of the presentations because we weren't invited. We always found out about them from some other source. We read the occasional poem in the New Yorker (the librarian would give us) and of course we read his deadly strange books. He was a prolific writer: On A Mission To Procure Molasses For The U.S. Army, Numinous, From Marduk To Urantia, Approaching The New Age: A Pilgramage, Eve & The Ophidians: The Red Flower, The Plot, The Life of Pierre "POM POM" Revoir: Anarchist, God in Heaven, Oh Melchizedek, My Daughter Just Loves Her Vulva: Portraits of Life in A Small Town, Stone Thief, A Legend in His Own Mind, WO-BA WO-BA, Monkeys Rule The World, Down and Out in Louisville, My Daddy The Czar, Myweeni's Satyricon, The Mosquito Extermination Commission, Rishikesh, He Lives and its sequel He Dies, his academically acclaimed work on comedy Aristotle and Anassoyes, his award winning one act expressionist play: The Absurd Turds, the Onan Award winning short story "One Armed Adulterers: The Masturbatin Blues," his astonishing book on literary and cultural criticism titled The Politics of Marriage: Parallelism, Convergence and Transmutation in Three Stories by Tolstoy, his work on esoteric mysticism Mysticus Memoria Rhythmus: Ignis Fatuus?, to name a few and of course the most controversial one, 123 weeks on the New York Times Bestseller List: Guilt Without Sex, oh and who could forget his internationally acclaimed UR-Feminist Fantasy: Fellatio With Dirty Men Made Them Grow Moustaches. I call him Brain Man. Why not? After everyone started calling me Bone Man I started calling my younger brother Muscle Man and felt it only natural to call this shadow intellect Brain Man. I remember walking into his room when I was a kid, I was in my I'm gonna be a spy stage and I was taking notes, writing everything down for future reference, god the books everywhere and he was just in high school: books about the holocaust and the apocalypse, Gibran, Rumi, Sufi books, Gurdjieff and Ouspensky, Freud and Jung and their followers, Kerouac, Ginsberg, Burroughs, Corso, Ferlinghetti and The Beats, Hesse and Mann, some guy named Hamsun, Ibsen, Munch, Jacobsen, Strindberg, and all kinds of esoteric mystical occult stuff: crystal skulls and pyramids, Egypt, Great White Brotherhood, Atlantis, the Bible, Alchemy, Gnosticism, the Essenes, Egyptian and Tibetan Books of The Dead, Cayce, Hopis, all the major religions, meditation, levitation, invisibility, Dylan, he was consumed by Dylan and Gregorian Chants, God the sounds that came out of his attic bedroom: scared the hell out of us kids some nights. There were lots of posters and pictures on his walls, surreal and psychedelic stuff, sayings and poems tacked all over, covering the walls like wallpaper, one poem by Hesse titled "Stages," one by Wendell Berry titled "Manifesto: The Mad Farmer Liberation Front," and then one he wrote I never understood, "3 A.M."? 

3 A.M.

I stare at three prunes on a
white napkin on the brown arm
of an Indian couch against a
brown carpeted floor with three
steps leading up to…a white
wall. A tiny bug crawls from
one prune trying to escape my
finger which smashes it. My finger
leaves it exactly where it dies
as proof that it did exist.


See what I mean? What the hell was he getting at? I don't know. He was so strange. He had tea bags hanging from his ceiling, a tombstone in the center of his room, candles all over, a human skull on his desk, a stuffed raven perched on the back of his chair, incense going all the time. Totally weird stuff and he never talked. I never heard him say a word. One day he was gone. We never saw him again. I heard once he decided to become an Essene, read tons of books. May have helped translate some of The Dead Sea Scrolls, got rid of everything, started fasting and one Easter Sunday – I read this in the newspaper – he burned down hundreds of acres, said it was an accident, said he was burning off a plant bed for an herb garden. No charges were pressed. He disappeared again. I heard he went to Greece for a couple of years, lived near Delphi or maybe on an island, traveled all round east on the Enlightenment Tour to Egypt, Persia, India, Tibet, and back again.

Your Arrogance

Squinting my eyes tighter: what I first thought was a wormhole my narrowed vision now transmuted to a keyhole. I rubbed my hand across the smooth wood paneled wall and found the seams of the door, a closet door, actually more than a closet the narrow black room reminded me of some ancient burial chamber, perhaps a catacomb, as my flashlight revealed deep shelves embedded in the walls and at the end of the room an opening to the left as if the room extended to other, hidden, areas of the large attic. But I stopped just inside the door at the first of Brain's large black file cabinets in which I discovered manuscripts, filed manuscripts, some typed, some handwritten, and letters, file after file of letters. Working my way from top to bottom of the first four-drawer cabinet I pulled the bottom drawer open and my eyes flashed on the red TERROR file. The first letter was written by two professors from the University of Tulsa:

Your Arrogance,

We do not consider your (unfortunately best selling and so-called ur-feminist fantasy) novel, FELLATIO WITH DIRTY MEN MADE THEM GROW MUSTACHES, even remotely humorous or interesting. How your publisher sold any copies is beyond us and reflects the oh so sad state of our patriarchal society. We don't think the text is well written, as a matter of fact we don't think you can write at all. We are performing research (investigations!) on certain sections of your text to determine whether you have plagiarized older (perhaps ancient) documents. You sir have performed a great injustice and disservice to the cause of women's rights, to the emancipation, yes emancipation, of women! If there is ever anything we can do to hinder your progress be assured that we will. We will create detours, roadblocks, whatever obstacles we can: YOU are on our list so BEWARE!

Despitefully,

Professors Sparrowsworth & Frogbait
University of Tulsa


This letter shocked me for three reasons: 1) I had read, I thought, all Brain's published work (English translation) and he always, explicitly and implicitly, advocated the freedom and personal rights of every individual regardless of race, sex, creed, etc. 2) Brain had always been a loner but the terrorist attacks that had driven him to complete isolation, to invisibility, started within a month after the date on the Sparrow/Frog letter and 3) FELLATIO was published long after Brain left home; the professors' letter was dated nearly a year after the book was published; how, how did the letter get here? Brain hadn't returned home since he left, years ago! Or had he?!

Brain Man

After Brain Man, my invisible older brother, The Other, without a word to anyone, left home I started slipping up to his attic room. For months, then years, I made notes. I was secretive about my journeys because, for all I knew, he might come bolting in the moment I sat down in his dark green leather chair plus his room scared the hell out of me what with the heavy smell of musk, the creaking floor, the low whistling sounds of the wind, the wind moving the tea bags – dangling on strings from the ceiling – to dance a slow circling dance, the tombstone in the center with Reverend Roscoe Rankin January 19, 1809 – October 7, 1849 inscribed on it, seven candles cross the top of it with old wax down the sides and on his desk a human skull, an Egyptian ankh, and obsidian stone shaped like the head of a spear, a small crystal skull, a bronze dragon, a gold Seal of Solomon with a strange design at its center hanging from a turquoise necklace, the bookends of some character I hoped was Pan but I feared was the Devil, with three books between them: Gustav Meyrink's The Golem, Bruno Schulz's Sanatorium Under The Sign of The Hourglass, and Knut Hamsun's Hunger, the stuffed raven perched on the back of his chair and on the walls a Munch painting: "Death and The Maiden," a Van Gogh: "Skull With A Cigarette," psychedelic posters, a stained glass three-dimensional hanging of a pyramid that drew my eyes to its center: sides of diminishing multi-toned browns flowing into a dark-blue pyramid flowing into a circle of fire into the center: a golden pyramid.

At times, with all the sights and sounds of the room, sitting in his chair, I found myself staring, drifting, deep into the golden pyramid and the next thing I knew I had passed through the fire, had passed through a blinding light that lightened my electromagnetic field and I entered a chamber, the upper chamber of the pyramid and in that golden chamber I levitated over an open, golden sarcophagus and as I floated, relaxing, moving deeper and deeper, a brilliant light filled the crystal ceiling of the chamber, filled the room permeating my entire being and particles of gold from the room danced with the light and found focus in my being and from time to time I left the chamber through the ceiling and found that I could travel anywhere I wanted and see whatever I desired to see and then return, reversing the process until I was conscious again sitting in his chair.

The first thing I always did (after the first few months) before I sat down in his chair was to light his Spiritual Sky incense. He had a large hand-carved wooden box full of packaged musk. The package had a For Madmen Only, Inc. stamp on its face.

At times, sitting there, in the quiet, with the wind, with my eyes closed, I could hear laughing: distant, soft, closer, hysterical, never long before fading and gone. I wondered if it was him and he could see me, perhaps traveling through the pyramid.

After a few months of sneaking up there and sitting quietly and taking in the vibrations I started looking through his books and papers and listening to his music. His Gregorian Chants were my mainstay – they seemed most appropriate for this microcosmos – but I worked my way through his entire music and book collection and I was nearly finished with his papers when, at the back of the bottom drawer of the black file cabinet in the corner of his closet I found a document, actually a small file, in his handwriting, that along with my questions of why and how he wrote Eve & The Ophidians: The Red Flower, made me determine to find him no matter where I had to go. The document I first, mistakenly, thought was one of his longer novels had two words stamped in red ink on the front cover: CODENAME: BANKRUPT.

C.I.A.

VV Four dogs, snarling, growling, teeth gleaming in Delphic moonlight, had us squared. The square of dogs stood at the edges of the circled temple: the temple of Apollo at Delphi. The hair on my arms and the back of my neck was standing. I had goose bumps and felt like I might piss in my pants. I had been dreaming: I was hot on the trail of Brain Man. I was in a cave high on a peninsula off Mykonos. On the ceiling of the cave was chiseled "The Other was here." Then the dogs woke me. Luckily I kept my walking stick next to my sleeping bag. I moved slowly. I let the fear pass. I punched Gene, sleeping about six feet away, with my stick.

--- What the hell! He said.

--- Be quiet I said. Move real slow. Look

He saw the dogs.

--- Oh shit! Was all he could get out.

He didn't move.

I got up in slow motion. I'd seen my Dad deal with packs of wild dogs in western Kentucky. Daddy was always meaner than they were so he always won. I crouched. I growled.

--- Okay who wants me first?!

I screamed a vicious growling scream and swung my stick hard and fast in a circle

--- come on you Bastards!

Before the words were out the dog with its back to the valley, to the Gulf of Corinth, came leaping with teeth flashing. I gripped and whirled my ash stick with all my might landing a blow that crushed the dog's head. It went down with a thud and a whimper. I turned quickly to the other three. They stared for a moment then turned and ran.

Stuck down under Brain Man's CODENAME: BANKRUPT file was a thick, bound, manuscript, that I think was his doctoral dissertation, titled "Quest For Self In The Ocean Of Consciousness: The Origins of Expressionism and Modernism." Copious notes were written on all margins. Jammed inside the front cover were letters from Richard Kain, a photo of Brain with Richard Ellmann in front of Ellmann's home at 39 St. Giles in Oxford and notes on their conversations related to "the ocean of consciousness novel," comments on a lecture and meeting with John Kelly, editor of Yeats' letters, discussions and notes from a Valentine Cunningham of Oxford, a note from Michel Butor, and other old letters and notes from various persons.

There were several paper-clipped pages, tucked inside the back cover, with the heading "The Ocean of Consciousness Movement." Brain had created characters he called Numinous: The Group of Seven. They were the founders of the OC Movement which was to be a poetry/prose movement that would transform and redirect the literary world of Brain's Categorical Vision: Modernism, postmodernism, Ocean of Consciousness. He predicted that out of the Post-Modern surreal chaos would evolve a structure, more vast than presently perceivable, that he called The Ocean of Consciousness. The structure is difficult to perceive because we are the structure, the structure that encloses the chaos. But where do We, do I, my Self, begin and end? Do we begin? Do we end? The Earth was once thought of as the center of the universe but our view, our perception, thrown out, like a boomerang, through the creative imagination expanded and is now returning and we will soon see that we, each one of us, are the center of a vast, perhaps infinite, universe.

Brain had submitted individual pieces by The Seven to a number of journals and magazines with many accepted and published. A list was typed for each fictional author's works. Each one specialized in a different genre. Probably the best known was short, two stanza, poem published in the Paris Review:

Ocean of Consciousness
Penumbraic Penultimatum of The OC Movement

All streams reach Here
polyglot commingling
blood filled vessels
racing to The Heart

Vapors rise
Thalass fees Herself
all come
and go Her Way


The mention of "OC Movement" created quite a stir and initiated a stream of questions as well as anticipation of the ultimate statement. The poem was attributed to the Numinous: Group of Seven member named Alfred The Great.

I wondered why my brother had abandoned this apparently lost text and associated project. Had he forgotten about it? Certainly not: what with his encyclopedic memory not to mention his psychic gifts. He'd written so many things in so many areas perhaps he just lost interest. Whatever the reason. None of it had been presented to the public, so I started excerpting sections and submitting them – with a brief history of the 'lost' document and crediting Brain – to various scholarly/literary conferences around the U.S. and abroad.

I decided to make good use of my presentation of an excerpt, "The Ocean of Consciousness Novel: Knut Hamsun's Hunger," at the Annual International Modern Language Association Conference in Athens to continue my pursuit of the invisible brother. Gene's uncle, Robert, was C.I.A. agent extraordinaire and a Russian expert. Since much (not all) of CODENAME: BANKRUPT dealt with Russians I decided to take the manuscript, show it to Robert, and see if he could offer any leads.

I'd been in Greece for three months when I met the tall, slender, regally-goateed Stranger, who Robert later (erroneously?) identified as the grandson of the last czar of Russia (Robert was dead serious about this man's identity and never changed his story.). Gene and I had been in Athens all day crawling around the Acropolis, drinking retsina, kicking tailless, one-eyed cats, and shadowing new and used bookstore with the everdiminishing hope of spotting my brother. Returning to the Erythrean terraced northern suburb that overlooks Athens Moni, Robert's lovely wife, asked us to not make any noise and not to go in our bedroom as there was an unexpected guest asleep there.

Upon waking, the czar, with a genuinely friendly attitude, after three martinis and suggestions on how to improve our GO game, with a heavy accent, began, with some obvious evasionary side-stepping, to answer my queries. Yes he knew my brother. Brain, with his incredible mind and his psychic gifts, was involved with a group of Russians, and the C.I.A., working outside and inside the Iron Curtain. He had been having, and recording in CODENAME: BANKRUPT, visions of events that had occurred, were occurring, and, he thought, were going to occur in the Soviet Union. He said the Marxist walls were crumbling and would soon be tumbling. The czar (if that's who he really is), who is not, at least publicly, known to exist, stands ready to re-enter the new Russia as monarch if conditions allow. Brain Man, The Other, having learned of my quest, passed word through the C.I.A. to Robert that since the czar doesn't exit let him go and at least give Bone a truncated view of what I am up to.

Sequestrating the czar to the back balcony overlooking the valley and Athens I handed him a sealed envelope, a short letter to Brain with a plea:
Brain,

How did you know about Eve and me before it ever happened? And what about everything in the book that hasn't happened yet? I want to know about my future. I you know will you tell me? We have never talked. I must see you.

Bone

Oxford

Looking out the window I toast my tall glass of Harvey's Club Amontillado Medium Dry Sherry through the heavy noon rain to the tall walking stick leading the little man in the green coat and his black and white border collie across Broad Street to the White Horse Saloon next to Blackwell's bookstore. My room is on the third floor of Exeter. William Morris, J.R.R. Tolkien, and Richard Burton studied here. I can see Balliol, the Bodleian, the King's Arms, Clarendon Press, and to my right the heads of the twelve sages of the Sheldonian Theatre.

Two years have passed since Athens and only a few clues have surfaced as to Brain's whereabouts. I am drinking a liter of Harvey's a day. Not getting drunk, merely glowing. I continue the same routine: reading, drinking, exercise, drinking, searching, drinking. I have already presented Brain's conference paper at the Oxford Union. The paper is from Brain's lost text and is on Knut Hamsun's Mysteries. The title is "To See, To Create, To Lie, To Die: Johan Nilsen Nagel's Singing Myriad of Blind Angels in The Tower of Night." Yesterday, with a letter of introduction from Richard Kain, I spent the afternoon discussing Brain's "ocean of consciousness" theories with Richard Ellmann at his home, 39 St. Giles, in the heart of Oxford. This morning I signed a contract with Oxford University Press to publish the lost text which I believe was Brain's original dissertation although he actually received his Ph.D. for a book he wrote on Edvard Munch's Self-Portraits.

I have never discovered why Brain abandoned the Quest for Self text. Hell I've searched the planet but I haven't found the Brain Man, that damn invisible older brother of mine who refuses to reveal himself to me! Brain, you lousy bastard, I'm about to give up on finding you; as if you care you invisible sonofabitch! But if I do ever find you the first thing I'm gonna do is kick your ass!

Dublin

Space. Time. Rhythm. Static. Kinetic. Truth. What is truth? Silence. Do you know? Movement. Rhythmic movement. What is the shortest distance between two points? Creative distance. How do we move forward? Imagination? Mysticism? Lies? We move forward by the aid of symbols and we change those symbols as we move forward. Who said that? Is there an echo in here? A catalectic tetrameter of iambs marching. Who said that? Who is in this dark room with me? Who is standing by my side? Whispering in my ear? Breathing on my neck? Giggling? Who is laughing?

In the Aer Lingus terminal at Gatwick Airport outside London Brother Patrick Dominique Allende is writing the litanies of Mary, mother of Jesus, on envelopes. He is quoting the rosary prayers and is now describing his daily personal encounters with Mary, his guardian. It is interesting. A week ago I heard an interview on NPR with a nun whose new book on her daily personal encounters with Mary had just come out and was expected to be an international bestseller. Brother Patrick had been standing, looking lost, near the Aer Lingus counter. I said hello. We entered into discourse. Are you going to Dublin? Yes. The flight is two hours behind schedule. But our flights were different. His left an hour after mine. Brother Patrick, the youngest of seven children, is from the Phillipines, has just completed his training for the priesthood in Spain and has received his first assignment: Bray, Ireland. Bray is south of Dublin. We talked for two hours. He wrote his Bray address under the last prayer and invited me to visit. He reached in his pocket and pulled out a bone rosary and said I've carried this with me for eight years, here, take it. I'll get another. I accepted the gift with thanks. We hugged and parted.

I meet a woman on the plane. She is for women's rights. Her husband is picking her up at the airport. Where am I going? We'll give you a ride. What brings you to Ireland? The International James Joyce Symposium. Ah. Do you know Senator David Norris? He spoke for women's right. He and I were on a panel together. He's wonderful. Perhaps you'll meet him. He is a homosexual and has done more for women's right and gay rights than anyone in Ireland. He's a Joycean. Teaches at Trinity. I'm sure he'll have something to do with the Conference. She was right. He was one of the Directors. Head of the Host Committee. And I did meet him. More than once.

Where am I now and what am I doing here? I have arrived in Dublin in June to present one of Brain's papers at the International James Joyce Symposium. The paper is from the last chapter of his dissertation, the chapter titled "Stephanoumenos in Quest of the Numinous: Mysterium Tremendum and Gnostical Turpitude: The Big Bang Epiphany in Joyce's A Portrait and Ulysses." The first section of the chapter is titled "Alchemically Transmutative Symbol Decipherment: The Book as Sacred Elixir" and the second section, the section I am presenting, is titled "Me. And Me Now. I,I: The Ocean of Consciousness Novel II." I recently discovered another unpublished Brain text Modern Monk Beat: Joyce at Gethsemani and City Lights: James Joyce, Thomas Merton, Lawrence Ferlinghetti. Apparently Brain met Merton once. Somehow Brain and Ferlinghetti had gotten to know each other, met at Gethsemani, and the text evolved out of that initial visit. I had already selected a piece from Modern Monk Beat for the next International Joyce Symposium in Seville but now I'm in Dublin, still looking for Brain, and in the process having all kinds of strange experiences and meeting some remarkable people. I had met August H. Altmulig at the Oxford Conference, she had attended my Brain presentation and I heard her presentation on the great Norwegian feminist writer Cora Sandel. I had been intrigued by Sandel and Altmulig, introduced myself, and we maintained a correspondence. August had received her Ph.D. from Oxford. She now lives in Oslo and is considered the greatest female scholar of modern Norwegian literature and art (Harald Naess, of course, being the greatest male scholar).

I made downtown Dublin mid-afternoon. Signing in at Trinity August was the first person I met. While we were visiting, Robert Spoo, the editor of the James Joyce Quarterly, entered the conversation and the three of us headed to Davy Byrnes', where we met Fritz Senn and Suzette Henke, for dinner which was followed by much drinking, talk, and, finally, song.

Like a lantern run low of oil the sun casts its last embers into a multitude of diminutive waves dancing restlessly cross the River Liffey. From the center of the arched bridge I watch the dance of Dublin slow, falter, change rhythm as the embered waves sink, the flame finally extinguished.

After I'm not sure how many pints of Guinness Stout, stumbling from the bridge, finally finding myself back in my room, I make some coffee and sit down to finish reading Lytton's A Strange Story: An Alchemical Novel when suddenly a gust of wind blows the paneled windows open. A cold chill fills the room, something runs up my spine, bumps jump all over my head and my hair shoots straight up with electricity. Sobered I place the book on my desk and sit still, listening. I can see the yellow cover out of the corner of my left eye and the cover symbols, the sun and moon, the river, the male and female emblems, juxtapose themselves, a double-exposure, cross my view of Grafton Street as I stare out the window from the third floor. A fog crawls towards Trinity, towards me, from the River Liffey. A figure in a bright red hooded cloak appears from narrow Wicklow Street, directly across from the college, from my window. Her face is shielded by the red hood but I can tell it is a woman by her lithe, graceful, catlike movements, and from the Indian mound curves that charm her body. In the distance I hear the two songs I hear so often: Jimi Hendrix playing Bob Dylan's "All Along the Watchtower" and Bob Dylan playing Bob Dylan's "All Along the Watchtower." Where is Jimi Hendrix? Where is Bob Dylan? Who is that woman with the red hood and why is she sneaking through waist high fog on this dark night and what the hell am I doing standing outside my third floor window peering over this tower's parapet? "the curious warning sign before our protoparent's ipsissima verba?" A warning sent to Bone from a magician named Ogmios Brain? Should I hattract her hattention?

In Sandycove…The day will start early at the South Bank Restaurant where the customary Bloomsday Breakfast (with entertainments) will be served from 6 o'clock in the morning. Breakfast is priced at seven pounds and bookings may be made at 280 8788. At 8 o'clock the Joyce Tower will open for the day and will be the scene of readings (official and unofficial), parties and shenanigans until closing time at 6PM. The Tower, which marks its thirtieth birthday as a museum on Bloomsday, has recently been given a facelift and the Round Room has been partly restored to the condition it was in Joyce's time. One of Joyce's two death masks is displayed.

Where are Joyce n Beckett? In Re-Joyce N Beckett by Phyllis Carey says Catherine Malloy and I'm searching for Joyce n Beckett. In the Heart of the Hibernian Metropolis, Joyicity, events of all sorts, in addition to those on the Symposium programme, will be going on all day. Where is Eithne Strong? In Monkstown chanting lullabies to her nine children, whispering to her dead husband, smiling at the rest of us. And I'm searching for Eithne Strong. Where is Seamus Heaney? At the Peppercannister Church with Joseph Brodskey at University College Dublin with Mark Strand at Lenoir-Rhyne with Rand Brandes at Bellarmine with Bert Hornback at Queens with Donatus Mwoga at Ulster with Cathal O'Searcaigh at Poetry Ireland with Theo Dorgan at Harvard with Ron Whitehead Published in Heaven and I'm searching for Seamus Heaney.

And the fog, with Brain somewhere deep in IT in IT yet lost to Bone, the fog has come from Liffey from the sea and covered Trinity Dublin all 
copyright (c) 2000 & 2008 Ron Whitehead 







---
CALLING THE TOADS
The Antinomian Fire This Time
by John Tytell and Ron Whitehead
the bone man dances circles
round the subterranean gloom
paints pink and blue and purple
until he fills the room
with the smell of roses
and a pandemonium moon
There is a struggle going on for our minds the minds of The World People. Every form of expression is being attacked. The attack is overt and subtle, explicit and implicit. The attack manifests as silent persecution, as mind manipulation, as censorship, as fear. The attack is pervasive. Most people, being asleep, are not even aware of the attack - until their doors are broken down. In the face of fear the poet the writer the artist the composer the musician the filmmaker can and must speak must act. I believe in individuals who are awake who fight for freedom. I believe in non-violent fighting which creates new forms new voices which, by their own being and expression and action, stand against reaction against fundamentalism against violence against war.
UNSCREW THE LOCKS FROM THE DOORS
UNSCREW THE DOORS FROM THEIR JAMBS
Anne Hutchinson, William Blake, Walt Whitman &
The Antinomian Tradition
VOICES WITHOUT RESTRAINT
"Government shall make no law respecting an establishment of
religion, or prohibitiing the free exercise thereof; or abridging the
freedom of speech, or of the press; or the right of the people peaceably
to assemble, and to petition the government for a redress of
grievances." -The Bill of Rights, 1st Amendment
Anne Hutchinson, cousin of John Dryden, organized a circle of women and led them in discussions of church sermons. The notion that women would even dare to discuss these sermons was considered subversive - after all, discussion leads to questions. Anne Hutchinson was convicted of "traducing" the ministry and banished, cast out of Boston.
Antinomian emerges from the Protestant Reformation which encourages its adherents to deny authority and resist the state when its moral position is feeble, contradictory, absurd. In legal terminology an antinomy signifies a contradiction which in Walt Whitman's historical moment was the condition of slavery in a supposedly free society.
"The attitude of great poets is to cheer up slaves and horrify despots," Whitman wrote. He, like William Blake before him, saw his purpose as spreading to the people the original ideas of the American republic, and a revolution that had been fought to relocate sovereignty in the individual rather than in the state. In an editorial he declared that the greatest evil was "strife for gain," yet even in his crusading journalism he was a voice of affirmation and love.
"Unscrew the locks from the doors,
Unscrew the doors from their jambs"
-Whitman
"Poetry fettered fetters the human race"
-Blake
"It is not metres, but a metre-making argument that makes a poem"
-Emerson
"Urge and urge and urge. Always the procreant urge
of the world"
-Whitman
"through the windr of a wondr in a wildr is a weltr
as a wirble of a warbl is a world"
-Joyce
When Whitman completed LEAVES OF GRASS, the grass being the uncut hair of the dead, he designed it, set some of his own type, and set as his publication date the fourth of July, 1855.
LEAVES OF GRASS was disdained by critics as "a mass of stupid filth," an example of "New York Rowdyism," "grotesque and uncouth." The only favorable reviews were written by Whitman himself, pseudonymously, except that is for a letter from Emerson proclaiming Whitman's book as the "most extraordinary piece of wit and wisdom that America has yet contributed." After Whitman was debilitated by stroke the young Henry James attacked his work and a generation later, in a jealous attempt to dethrone the cosmic poet who had written the American epic poem of the 19th Century, Ezra Pound continued the attack on Whitman's romanticism.
Whitman revised and expanded his poems for the rest of his life but not before paying over six hundred visits to hospital wards during the American Civil War. Basic surgery was amputation. Suffering was overwhelming. Whitman maintained cheerful optimism, the hallmark of his character. Whitman gave succor to the wounded.
Pound's CANTOS reflect his own lifetime of antinomian resistance to the warfare state. Long after he made his peace with Whitman, Pound became pariah of modern poetry, hysterically protesting "a system which created one war after another in series in system." Ezra Pound was incarcerated, twelve years in the house of bedlam, St. Elizabeth's, an asylum for the criminally insane in Washington D.C., which, years earlier, during the Civil War, had been one of the hospitals for the wounded visited by Whitman.
Another antinomian, arriving in Paris, 1930, with ten dollars and a copy of LEAVES OF GRASS, forty years old, twenty unsuccessful years trying to write fiction during an anguished marriage, liberated himself from the middle class values most take for granted, destitute, surviving by persuading a dozen new friends to feed and house him in rotation in exchange for his conversation, fell in love with Anais Nin, another unknown writer, and began his first masterpiece, TROPIC OF CANCER.
In his poems Whitman simultaneously praised and condemned his country. In CANCER Henry Miller savages America as a "cesspool of the spirit," "a curse on the world." While Whitman introduced orgasmic potential in "Song of Myself" Miller used sexual liberation as antinomian metaphor. Published in Paris, 1934, CANCER didn't appear in an American edition until 1960 when Miller was past 70. Whitman's poems were challenged by the district attorney of Boston but Miller's CANCER faced 50 obscenity charges resolved finally by the Supreme Court. One of the triggers of the Sixties.
Ezra Pound, an iconoclast far on the right of the political spectrum. Henry Miller, a Nietzchean nihilist with an anarchistic distrust of all institutions. Both romantics who cannot believe with Whitman in the dream of American possibility.
Whitman, Pound, Miller, all Voices Without Restraint. Crucial American influences on The Beat Generation. The Beat Generation. In the next decade The Beat Generation will come to be recognized as the most important group of poets and writers in the history of America. Jack Kerouac, spokesperson for The Beat Generation wrote a panoramic rhapsody infused with Whitman's identification with the common, the lowly, the downtrodden. Kerouac eulogizes his hoboes and wanderers in the same natural speech which caused James Russell Lowell to keep Whitman off the shelves at Harvard. Kerouac's prose line, his long, endlessly unpunctuated, surging sentences are based on Whitman's "Song of Myself" and like Whitman Kerouac is a celebrant who remains optimistic, despite all odds, despite all suffering struggle pain failure, he remains optimistic because he knows the journey is perpetual and has no end.
Kerouac's friend Allen Ginsberg is even closer to Whitman. "Howl," written exactly a century after "Song of Myself," uses the same long line. In Whitman's case as in Ginsberg's form becomes a function of the freedom to which the poet aspires. The holy, holy, holy, everything is holy is magnificent Whitman AH and AHA ecstasy.
Ginsberg is less ambivalent than Whitman about the human price we pay for commerce and industry, more in accord with Pound and Miller in his suspicion of Moloch, his cannibal dynamo of industry named after the Babylonian god to whom children were sacrificed. But Ginsberg's antinomianism has been, like Whitman's, the wound dresser, adhesive, sewing a communual purpose. So Ginsberg helped organize the peace marchers in the Sixties, was witness to the Chicago National Convention in 1968, along with his friend William S. Burroughs, who may be the most antinomian of all The Beats.
Lawrence Ferlinghetti, who was arrested for publishing "Howl," Ferlinghetti, whose City Lights Books is antinomian mecca of the world, Ferlinghetti, whose A CONEY ISLAND OF THE MIND has sold more copies than any book of poetry by any living American poet, Ferlinghetti, antinomian to the end, sees the poet as enemy of the state.
The antinomian legacy of Whitman, Pound, Miller, Kerouac, Ginsberg, Burroughs, Ferlinghetti, and so many other poets, writers, artists, musicians, filmmakers leads to our door and in this final moment having stood in the shadows for too long we step out and now we stand on the
brink on the edge
at the ending of time
Time was Time is Time will be no more
and it's The Big Bang Epiphany
in the gap between thought and image
Voices streams racing
whispering through our blood
pleading through our bones
strange activities of our nerves
the unconscious life of our minds
a tetrameter of iambs marching
shouting Voices Without Restraint
Alchemically Transmutative Symbol Decipherment
The Book as Sacred Elixir
Manger du Livre Eat The Book
The shortest distance between two points is creative distance
and Allen Ginsberg howls
"I saw the best minds of my generation destroyed by madness, starving,
hysterical naked"
and Diane di Prima rants
"the only war that matters is the war against the imagination, all other
wars are subsumed in it"
and Amiri Baraka chants
"They have turned, and say that I am dying. That I have thrown my life
away. They have left me alone, where there is no one, nothing, save
who I am. Not a note nor a word."
And Lawrence Ferlinghetti paints PICTURES OF THE GONE WORLD
Allen Ginsberg Diane di Prima Amiri Baraka
Lawrence Ferlinghetti
Numinous howls and rants and chants and paintings
and years of tears come fiercely flowing streaming
all the pain wells up
years of failure of not being enough for anyone
years of wandering lost on the outside
Outlaw
being told "you ain't shit you don't fit what the
fuck you doin here? all you've done is create pain and sorrow wouldn't
you be better off dead?"
Turning away from walking away from disappearing from
Authorities the past
The Dead
in the hermetic corridors of authority The Dead
sombely splash in their shallow sewers
devouring and regurgitating themselves
and with tears in my eyes a snarl on my lips and peace in my heart I'm
failing as no others dare fail
and I'm in the gap between thought and image
how'd I get here after all the years of not being self
after all the years of being Other
of floating out of my body on the ceiling
watching skin blood bones nerves going through the motions believing
in space and time without realizing I was already Out out of sync
beyond chaos
breathing rhythms at the ending of time
and now here in the gap between thought and image
where the only distance is creative distance
Here Now at The Ending of Time
I focus all three eyes in wolf fashion
Closing Time
I walk through the stone called lump of fat
and I float through the fire that is central
and I enter the upper chamber of the golden pyramid
the confluence of all streams
polyglot commingling of all voices
Thalass feeds herself
and as I float over the open sarcophagus
I am
The Ocean of Consciousness
(end of Part 1. Part 2 to follow)
copyright (c) 2000 & 2008 Ron Whitehead




"I have long admired Ron Whitehead. He is crazy as
nine loons, and his poetry is a dazzling mix of folk wisdom
and pure mathematics." Hunter S. Thompson
We are The Storm Generation!!!
CALLING THE TOADS
The Antinomian Fire This Time
by John Tytell and Ron Whitehead
(Part 2)
Knut Hamsun, progenitor of modernism, recipient of the 1920 Nobel Prize for Literature, in his 1890 essay, "On The Unconcscious Life of The Mind," said "We would experience a little of the secret movements which are made unnoticed in the remote places of the soul, the capricious disorder of perceptions, the delicate life of fantasy held under the magnifying glass, the wanderings of these thoughts and feelings out of the blue: motionless, trackless journeys with the brain and heart, strange activities of the nerves, the whispering of the blood, the pleading of the bone, the entire unconscious life of the mind."
So what, so what is the ocean of consciousness?
"The only war that matters is the war against the imagination, all other
wars are subsumed in it."
-Diane di Prima
The psychic makeup of creative persons attracts attention, but the actual artistic achievement is the bedrock of inquiry when it is directed toward understanding the artist, for the artistic disposition adheres to a charisma that attaches to the 'office' and has collective aspects.
"To be an artist is to fail, as no other dare fail."
-Samuel Beckett
Today Specialization is sold on every corner, fed in every home, brainwashed into every student, every young person. We are told that the only way to succeed, here at the beginning of the 21st Century is to put all our time, energy, learning, and focus into one area, one field, one specialty (math, science, computer technology, business). If we don't we will fail. We are subtly and forcefully, implicitly and explicitly, encouraged to deny the rest of who we are, our total self, selves, our holistic being. The postmodern brave new world resides inside the computer via The Web with only faint peripheral recognition to the person, the individual (and by extension the real global community), the real human being operating the machine. The idea of and belief in specialization as the only path, only possibility, has sped up the fragmentation, the alienation which began to grow rapidly within the individual, radically reshaping culture, a century ago with the birth of those Machiavellian revolutions in technology, industry, and war. And with the growing fracturing fragmentation and alienation comes the path - anger, fear, anxiety, angst, ennui, nihilism, depression, despair - that, for the person of action, leads to suicide. Unless, through our paradoxical leap of creative faith we engage ourselves in the belief, which can become a life mission, that regardless of the consequences, we can, through our engagement, our actions, our loving life work, make the world a better, safer, friendlier place in which to live. Sound naive? What does this have to do with Voices Without Restraint? With The Beat Generation, The Voice that, though trembling, speaks out against The Powers That Be, what place does this Outsider Poet Voice have in the real violent world in which we are immersed? Are we too desensitized to the violence, to the fact that in the past Century alone we have murdered over 160 million people in one war after another, to even think it worthwhile to consider the possibility of a less violent world? Are we too small, too insignificant to make any kind of difference? The power-mongers have control. What difference can one little individual life possibly make possibly matter?
Today the X and microserf and why generations are swollen with young people yearning to express the creative energies buried in their hearts, seeping from every pore of their beings. They ache to change to heal the world. Is it still possible? Is it too late? Is there anyone (a group? The Storm Generation?!) left to show the way to be an example? To be a guide? A mentor? James Joyce, King of Modernism, said the idea of the hero was nothing but a damn lie that the primary motivating forces are passion and compassion. As late as 1984 people were laughing at George Orwell. Today, as we finally move into an Orwellian culture of simulation life on the screen landscape, can we remember passion and compassion or has the postmodern ironic satiric deathinlifegame laugh killed both sperm and egg? Is there anywhere worth going from here? Is it any wonder that today's youth have adopted Jack Kerouac, Allen Ginsberg, William S. Burroughs, Herbert Huncke, Gregory Corso, Neal Cassady, Lawrence Ferlinghetti, Amiri Baraka, Robert Creeley, David Amram, Diane di Prima, Ed Sanders, Anne Waldman, Bob Dylan, and all the other Beat Generation and related poets, writers, artists, musicians, photographers, filmmakers as their inspirational, life-affirming antinomian ancestors? These are people who have stood and still stand up against unreasoning power/right/might, looked that power in the eyes and said NO I don't agree with you and this is why. And they have spoken these words, not for money or for fame, but out of life's deepest convictions, out of the belief that we, each one of us, no matter our skin color our economic status our political religious sexual preferences, all of us have the right to live to dream as we choose rather than as some supposed higher moral authority prescribes for us.
In the next decade The Beats will come to be recognized as the most important group of poets and writers in the history of America. The Beats have given birth to new generations to new energies which are waking to the realization that the creative imagination provides salvation from suicide, from death in life, by revealing that there are alternative paths to explore in this world alternative paths that lead away from the mundane, the superficial, away from submission to mediocrity alternative paths opening into the inspired brilliant fire called LIFE.
The hallowed doors of Academia, Academia, the bastion of conservative thought, the doors of Academia are finally creaking open (just as it took so long for them to open to James Joyce, Virginia Woolf, Samuel Beckett and all other original thinkers and expressionists) the doors are creaking open and, finally, at least a discourse on The Beats has begun.
"I am more than my physical body and as such
I can see more than the physical world."
-Robert Monroe
produce produce produce
young people of all ages
let go your fears
embrace failure
take risks
be fearless
accept responsibility for your actions
embrace failure
through failure you will know undreamed of success
Mysticus Memoria Rhythmus:
Ignis Fatuus?
weaving wisps of memory beyond the thread of time
ocean of the forgotten fleet
with mystic memory rhyme
unseen siren sing within the pilfered soul
orchestrated rhythms of wind and drum
ride the blood crest
to the heart
move with word-thoughts distant
touch the untouchable emotion womb
cordate-chord at the core
of OM
If history is the embodiment of "fear, reason, social convention, and tradition" then it becomes the duty, the responsibility, the compelling creative urge of the Nabi, the Prophet, to crack history's encrusted, iconostasic, shell releasing the dying and dead by invocation of The Word, pure thought, translated via pure energy into meaning full sound. The Prophet, whose home is in Shadow in The Holy Unholy The Sacred and The Profane Realms of The Creative Imagination, as the synaptic link between spirit and matter, creates a new, enlightened awake being awake world.
Out of the postmodern surreal chaos will evolve a structure, more vast than presently perceivable, that I call The Ocean of Consciousness. The structure is difficult to perceive because we are the structure. We are the synthesis. All streams of thought of con and unconsciousness flow to our Ocean of Consciousness, the structure that gives birth to, engulfs, encloses, creates, and expands the chaos. Where do WE, do I, my Self (all of me including my Spirit and Soul), begin and end? Do we begin? Do we end? The earth was once thought of as the center of the universe but our view, our perception, thrown out, into The Creative Imagination, like a boomerang, expanded, and is now returning and we will soon see that We, each One of Us, are the center of a vast, interconnected, perhaps infinite, universe.
My quest to reach beyond Modernism and postmodernism to The Ocean of Consciousness may be partially defined as a literary scientific alchemical mysticism in which the mysterium tremendum is alive and doing well. It is a creative, numinous attempt to reach a Fourth Kingdom beyond but encompassing the alienated and alienating realms of spirit, matter, chaos, a Fourth Kingdom wherein lies the synthesis of apparently irreconcilable differences. The journey is inward, outward, centered, liminal, in the heart, and on the edge to silence, to the immaterial, psychological, emotional, mental, spiritual self, but also simultaneously to the spoken, visual, material, the world of action. But the emphasis of the journey is inward with self soul consciousness at heart.
Knowledge, from the inception of Modernism (and through postmodernism and Chaos to The Ocean of Consciousness), is reorganized, redefined through Literature, Art, Music, and Film. The genres are changing, the canons are exploding, as is culture. The mythopoetics, the privileged sense of sight, of modern, contemporary, avant-garde poets, musicians, artists, filmmakers are examples of art forms of a society, a culture, a civilization, a world in which humanity lives not securely in cities nor innocently in the country but on the apocalyptic, simultaneous edge of a new realm of being and understanding. The mythopoet, female and male, returns to the role of prophet-seer of shaman by creating myths that resonate in the minds the hearts of readers, myths that speak with the authority of the ancient myths, myths that are gifts from the shadow.
copyright (c) 2000 & 2008 Ron Whitehead
Presented by John Tytell and Ron Whitehead, with piano accompaniment by David Amram, at The New York Underground Music & Poetry Festival, November 2000, New York City.




"I have long admired Ron Whitehead. He is crazy as
nine loons, and his poetry is a dazzling mix of folk wisdom
and pure mathematics." Hunter S. Thompson
We are The Storm Generation!!!
---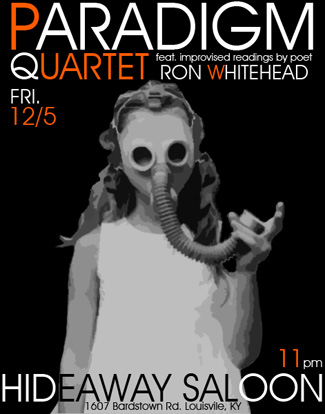 ---
---
Velocity: What Christmas gift do you get for the man who has everything?
Ron: The man who has everything will enjoy any of the following: a case of of Fetzer cabernet sauvignon, a case of chianti classico, a case of Harvey's Amontillado medium dry sherry, a case of Duvel Belgian beer, a case of Woodford Reserve, a year supply of Provigil and Cialis, a new pair of electric blue designer 2.0 reading glasses from C-eyewear (Winston-Salem, NC), Wendell Berry's new book The Mad Farmer Poems, Randy Wayne White's new book Black Widow, William McKeen's new book OUTLAW JOURNALIST: The Life and Times of Hunter S. Thompson, 2-time Grammy winner 92-year old David Honeboy Edwards' autobiography The World Don't Owe Me Nothing, the new unedited version of Jack Kerouac's ON THE ROAD, Ron Whitehead's new book THE WANDERER and his new solo cd I REFUSE and his new City of Louisville and Five0Two commissioned Louisville: Sweet City of My Dreams poem poster, SOUTHSIDE's SOUTHSIDE LOUNGE and WE ARE THE STORM cds, Collected Poems by Rumi, William Blake, William Butler Yeats, and Pablo Neruda, Frank Messina's new book Full Count: The Book of Mets Poetry (The Lyons Press, April 14 release date) and an original Frank Messina painting, front row tickets and backstage passes to My Morning Jacket's New Year's Eve Madison Square Garden show, front row tickets and backstage and after party passes for any SOUTHSIDE and Honey Highway show, airfare to Granada, Nicaragua for the world's largest poetry festival February 15-21, front row tickets and backstage passes to the 2009 Farm Aid concert, 12 passes to Baxter Avenue Cinemas, and 3 Hal-lai full body healing massages.




"I have long admired Ron Whitehead. He is crazy as
nine loons, and his poetry is a dazzling mix of folk wisdom
and pure mathematics." Hunter S. Thompson
We are The Storm Generation!!!
---
hello my family and my friends (you too are my family)!!
every day is Thanksgiving Day so Happy Thanksgiving!
every day is a day of celebration! life is a gift. with this gift we have
the greatest opportunity to grow our souls. i share with you a life
changing dream i had last night:
i had strange wonderful dream last night actually this morning tween 2 & 4am.
i was visited by group of friendly intelligent spiritual warriors (with wolf eyes) from another time, long ago, they
understand how to time travel and came to me via a time portal.
and they said the magic number is 14. they repeated 14 several times.
they explained why 14 is the magic number. they told me that's why
your (to me) favorite number has always been 14. Sarah's too. if i had a choice
i've always requested number 14 on my athletic jerseys. since i was a boy i've always
had deep abiding good positive feeling that 14 is the most significant number of all.
The Dalai Lama is the 14th,
and he said he may be the last Dalai Lama. they told me other examples of the
significance of 14, personal and general. then they said to me you and Marjorie were called
by the Mitchell-Hedges crystal skull, the main crystal skull, and you touched the skull
to seal the pact to consecrate your vow, you agreed to do the work you came into this lifetime to do.
and you have been doing all you were called to do, and the 13 crystal skulls will
soon be gathered, but now recall the dream vision you had 3 years ago about
the center of the earth being a large crystal, know that the large crystal at the
center of the earth is the 14th crystal skull, know that the changes are now speeding
up and the speed of change will only increase until the crossing the great transition,
keep doing what you are doing, letting everyone know everything you teach, keep
gathering The Storm Generation, your near death Storm Generation vision on The Viking Mountain back in May was no accident no chance occurence. your soul guided you to that mountaintop so we could give you The Storm Generation Manifesto vision. teach them remind them let them know that fear
blocks The Way keep letting them know to let go of fear to embrace love to ride
the storm crest change wave and those who do so will make it through the
crossing the great transition yes some may lose their lives by helping others but
as the you know there is no real death only transitioning passing through so have
no fear no matter what happens no matter what is going on keep up the good work all is and will be fine.
and then the dream ended. i woke up wanting to call Sarah then everyone else i know.
love to you and to everyone.
your friend forever
Ron
Storm Generation Headquarters
14 crystal skulls





"I have long admired Ron Whitehead. He is crazy as
nine loons, and his poetry is a dazzling mix of folk wisdom
and pure mathematics." Hunter S. Thompson
We are The Storm Generation!!!
---
hello folks! here's a beautiful new poem by Sarah Elizabeth.
she wrote it for her baby, Stone, who is due Christmas but might
arrive any day.
i hope all of you will send Sarah and Stone healing loving energies.
i want both of them to be healthy and happy.
it's been discovered that Sarah has cervical cancer. after Stone's birth
they'll do biopsy then determine what path to take.
if you can afford it please send Sarah and Stone birth(day) and Christmas
and whatever gifts you can i.e. diapers, Wal-Mart gift certificates for diapers, money, buy her cds, whatever you're able to do. if i could i'd provide for all their needs.
altho we've been divorced for a year and a half we're still best friends and
i still love her as much as ever and i want her and Stone to be okay. so at least send them
a loving card. thank you!!!
Ron
oh. her new poem for Stone follows their address:
Sarah Elizabeth
4420 Gordon Drive
Kevil, Kentucky 42053
her cell phone should be back on in week or so, 270 403 5322
when the spirit calls your name
there is a song in the quiet
felt but not heard
the song of you in my womb
growing stronger each day
as the days grow shorter
I watch the migration of the sky
rustling of leaves at sunset
fog lifting at sunrise
colors drip from trees
and become winter's quilt
in stillness
wind speaks louder
the ancestors know you
cherokee elders stand close to welcome you
the smell of wood smoke rises
from your grandad's
wood stove
you will know the warmth of home
clear moonlight in crisp night air
the migration of the sky
when the spirit calls your name
by
Sarah Elizabeth Burkey
"I have long admired Ron Whitehead. He is crazy as
nine loons, and his poetry is a dazzling mix of folk wisdom
and pure mathematics." Hunter S. Thompson
We are The Storm Generation!!!
---
LIFE

for Sarah
embracing
letting go
embracing
letting go
embracing
letting go
embracing
letting go
embracing
letting go
embracing
letting go
letting go
letting go
Ron Whitehead
copyright (c) 2008 Ron Whitehead
"I have long admired Ron Whitehead. He is crazy as
nine loons, and his poetry is a dazzling mix of folk wisdom
and pure mathematics." Hunter S. Thompson
We are The Storm Generation!!!
---
Spanish version: the evil of loneliness in the morning by Ron Whitehead
---
el maleficio de la soledad a la manana para Diana y Catalina y Maria y Dangella y Sarah
---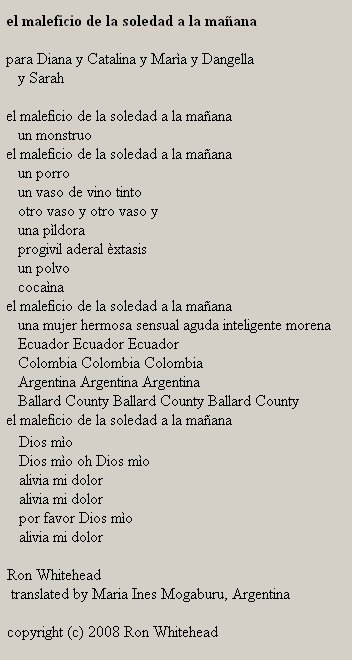 ---
Louisville (magazine)
December 2008
The Circuit
Recommended Reads:
Here are five praiseworthy books released in 2008
that touch on Kentucky in content and/or authorship.
Outlaw Journalist by William McKeen
(W.W. Norton, $28)
(photo of front cover)
Hunter S. Thompson may not yet be as well-known a
Louisville institution as the Kentucky Derby or Muhammad Ali,
but the seismic prose of this local son continues to intrigue and compel the faithful, who constantly demand new revelations. William McKeen's new biography, a follow-up to his 1991 work, is rich in its exploration of Thompson's Louisville childhood and the hurricane that was his writing life. McKeen resists the temptation to rationalize, or worse, beatify thompson's extraordinary excesses and personal failings, instead focusing on his struggles against deadlines and editors, his angst over his craft, and the fight to define his legacy as a writer against caricatures of the Thompson persona. McKeen traces the compelling arc of Thompson's career, beginning with the self-published newspaper of his boyhood in the Highlands, through his work as a sportswriter for the Eglin Air Force Base newspaper, to the hand-to-mouth existence from which came breakthrough pieces on the Hell's Angels, the Kentucky Derby and the 1968 presidential election. He explicates the storm that spawned Fear and Loathing in Las Vegas, and launched "gonzo journalism." McKeen closes the book with a handwritten note from HST commenting on the 1991 biography, and though most of the back-handed endorsement is unprintable in a family magazine, it concludes, simply: "You are scum" High praise indeed.
"I have long admired Ron Whitehead. He is crazy as
nine loons, and his poetry is a dazzling mix of folk wisdom
and pure mathematics." Hunter S. Thompson
We are The Storm Generation!!!
---
kentucky liberated redneck haiku
#22
i want to dick yer taters
but i don't want to be
yer dictator
ron whitehead
11/16/08
copyright (c) 2008 ron whitehead
"I have long admired Ron Whitehead. He is crazy as
nine loons, and his poetry is a dazzling mix of folk wisdom
and pure mathematics." Hunter S. Thompson
We are The Storm Generation!!!
---
this tore me up:
to roz
(with c.c.to to your grand-dad ron and all family)


Dear Roz
your dear granddad ron just sent me your nice birthday note and i wanted to
 thank you for thinking of me.
We were both much younger when we met (you were about 5 and i was close to 
70!!)

i hope you have a good time in Kentucky, a very special place in our wondef
ul country, and that you enjoy school. your family, and workingnhard for wh
at you dream of doing!

Here is a picture of my son (youngest of my three kids at 240 with hs wife 
at the wedding.

Send my love to your parents and thank you again for your nice note.

David Amram

BELOW IS A FOTO IF MY SON ADAM'S WEDDING.


Teresa and Adam and the wedding band with myself, Adam, Teresa's 11 year ol
d cousin from italy Mikey and Tony the singing dog entertain the throngs at
 the reception by the barn after the service.
Your grand-dad Ron Whitehead knew my son adam when Adam was a baby!!!