DAVID AMRAM
Below is famous picture from left to right of corso (withn white hat0 artist Larry rivers, Jrouac, David am,ram and allen ginsberg from 1959 when i was writing score as well as collaborating with jacj, neal Casady and Ginsberg for title song as well as my appearing in film Pull My Daisy as Mezz Mcgillicuddy, the deranged French horn player. doing From Cairo to Kerouac programs all over the world, wioth myu jazz quartet, with symphonies i conduct.
FEB 3, 2006 REVIEWS KEY WEST FLORIDA, ON TOUR WITH THE RENAISSANCE CLASSICAL ORCHESTRA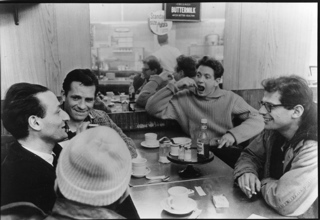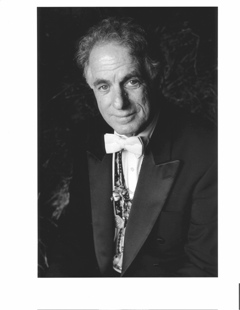 LEFT Impromptu Concert's latest star, David Amram of the Renaissance Classical Orchestra, is seen here with his hand in his mouth in a 1959 photo taken in a New York diner. With him, to his left, are painter Larry Rivers and writer Jack Kerouac, and to his right, poet Allen Ginsberg, and Gregory Corso (in the white hat). "Wild surge," says Amram, now 75, of those times.

RIGHT Amram conducting Renaissance Classical Orchestra in 2006


RIDENHOUR REPORT

BY VALERIE RIDENHOUR
Key West: The Newspaper

I am so proud of the Key West Council on the Arts Impomptu Concerts.
Sunday was the very best.The Renaissance Classical Orchestra played to a packed house with the remarkable David Amram conducting.

David is as good a musician as exists, and has an intriguing history. He and Jack Kerouac gave the first jazz/poetry reading in New York in 1957. He has done movies and Broadway productions and was chosen by Leonard Bernstein to be the first composer-in-residence with the New York Philharmonic. His credentials would fill this newspaper.

The orchestra was made up of soloists playing together as one.This was the most exciting music I have ever heard.All of us pray that he'll come back.

We heard everything from Bach to Mozart to Duke Ellington.

it was amazing.
------------------------------------------------------------------------------------------------------------------

SOUNDINGS

by Mark Howell

Solaris Hill Vol 27 Number 5 Feb, 3, 2006

What is Born of Spirit Is Spirit: It was the best- attended Impromptu Concert in all its 25 years of performances in Key West. The Renaissance Classical Orchestra at St. Paul's on Sunday was a huge hit, bringing the audience to its feet for both the concert and the encore.

The orchestra was led by David Amram, 75, fittingly described by the Boston Globe as "the Renaissance man of American music." His instruments include the French horn, piano, guitar, flutes and whistles and "a variety of folkloric instru- ments from 25 countries," he told Soundings this week. Amram enjoys rotating his players on each piece "so that everybody gets to be concert master and can choose their own soloists," he explained.

At the Key West concert, and at its Monday repeat in Marathon, Amram's son Adam played in the orchestra for Duke Ellington's "C Jam Blues." The youngest of his three grown children, Adam has his own band "but he's never been on the road with me with a classical orchestra before," said his dad.

Amram has composed hundreds of works, including the scores for movies such as "Splendor in the Grass" and "The Manchurian Candidate." Back in the early 1950s, he would often hear Charlie Parker play. Since then he has played with Charlie Mingus, Sonny Rollins, Dizzie Gillespie and Thelonius Monk. Amram is an icon to Soundings because he wrote the music for "Pull My Daisy," a 1959 movie written by Jack Kerouac and shot by Robert Frank in Alfred Leslie's Greenwich Village apartment. It went into minor release with John Cassavete's "Shadows"

The story of "hope bursting with poetry," "Pull My Daisy" starred poets Allen Ginsberg, Gregory Corso and Peter Orlovsky as "Allen," "Gregory" and "Peter," plus Amram as "Mezz McGillicuddy" and a French actress called Delphine Seyrig as a wife.

British critic Ian White called the film a "document of its own unraveling." American critics have been unkinder: "As fresh as a frozen green pea," said Parker Tyler.

Kerouac, of French Canadian ancestry, called the film "notre petit flic." It opens with a ditty written by Kerouac, Ginsberg and Neal Cassady, composed by Amram and now a signature song for Anita Ellis, that begins and ends with:

Pull my daisy, tip my cup

all my doors are open.

Cut my thoughts for coconuts,

all my eggs are broken

Hop my heart song

harp my height

serpaphs hold me steady

hip my angel

hype my light

lay it on the needy


The music for "Pull My Daisy," recalled Amram, was made up of "the treasures of Europe and the marvels of the New World." He mixed Renaissance sounds with jazz. The "commonality" of Baroque music and jazz, added Amram, is their "purity of intent and an exquisite choice of notes. I think our concert in Key West helped to portray that, without my having to say it."

Jack Kerouac he remembers as a "deeply religious man, always searching for something. Amram composed an accompniament for string orchestra and narrator premiered at the Kennedy Center, with E.G. Marshall reading the "Children of the American Night" section from the last page of "On the Road." Kerouac once told Amram, "You know, man, that passage was read by Sir Charles Laughton on the radio. It was so great! Better than anyone has done it." That cultured English accent, said Kerouac, made his words sound like the King James Bible.

Since Kerouac's death in 1969, at the age of 47, Amram has collaborated with Elia Kazan, Arthur Miller, Leonard Bernstein, Willie Nelson and Dustin Hoffman, among others. Last year he wrote a eulogy at the funeral of Lucien Carr, one of the founders of the Beat Generation who never wrote a word, with a quote from John 14: 1-6: "The wind blows where it chooses, and you hear the sound of it, but you do not know where it comes from or where it goes. So it is with everyone who is born of the spirit."

Amram reminds those young people who wish they were around in the 1950s and '60s that Charlie Parker once wrote a classic called "Now's the Time." "This is the perfect time to be here," he declared, concluding our delightful conversation with, "Cheers to you and your family from that endless road."
---------------------------------------------------------------------------------------------------------------

Jazz man is down- to-earth
David Amram enjoys a well-rounded career

By Molly Gilmore-Baldwin
FOR THE OLYMPIAN
Jan 10, 2006

When David Amram is touted as a Renaissance man, they're not exaggerating. The pioneering jazz French horn player collaborated with writer Jack Kerouac, composed the music for "The Manchurian Candidate" and "Splendor in the Grass," and served as the first composer in residence for the New York Philharmonic.


Amram, who'll show off his versatility Jan. 14 in Olympia, also is quite adept at freestyle rap, though he wouldn't call it that.

"When I was playing at the Bowery Poetry Club, a kid came up and said, 'Wow, you're the best 75-year-old rapper I've ever heard,' "
Amram recalls. "I said, 'We call that scat.'

"Homer was the first great jazz poet or scatter or rapper," Amram adds. "He did 'The Iliad' with no notes because he couldn't see. Someone wrote it down later."

The comparison is an apt one. A conversation with Amram is not unlike a Homeric epic: It's fascinating, but it's definitely not quick.

"You've got me out of my shell," he said, chuckling.

And that reminded him of a story. Amram was hanging out with Arlo Guthrie at a Woodstock reunion, and they ended up being interviewed by the media.

"Arlo gave great short answers," he said. "Then they asked me about the Beat generation and working with Kerouac and Charlie Parker. I gave this huge 30-minute answer, and the folks were sitting there with their eyes starting to glaze over, saying, 'Well, that's the most fascinating thing I ever heard.'

"Arlo said: 'That James Joycean Birdland rap was fantastic, but this is the age of the soundbite,' " Amram recalls. "He said it in an affectionate way.

"I'm trying to learn how to do that."

Although he's better connected than Kevin Bacon — he's worked with everyone from Leonard Bernstein to Willie Nelson — Amram also is most down-to-earth.

An e-mail sent to his publicist got lost in the holiday rush, but a follow-up contact resulted in an immediate phone call from the man himself. "I don't know why they didn't just give you my home phone number," he said in the lengthy voice-mail message.

"Andre Segovia was listed in the phone book in 1955 when I came to New York," he added. "Dizzy Gillespie, whom I played with for almost 50 years, used to hand out his card to everyone. I never thought it was something mysterious. I'm listed in the phone book."

Amram enjoyed some down time during the holidays — relatively speaking. "I'm thrilled to be home, not on an airplane or at an airport," he said. "I have deadlines for a book I'm writing and a symphony I'm writing, but I actually have time to talk to you like a normal person."

The book, Amram's third, is an autobiography to be titled "Nine Lives of a Musical Cat." And from the summary he gives, it sounds like a lengthy one. (The first volume of his autobiography, "Vibrations," is 480 pages.)

"My hope is that the book will show anybody — whether in the arts or not — that by working hard and paying attention and being in the phone book of life with a listed number, you can have a very rewarding life," he said. "I just turned 75 and still continue to be educated."

Amram ended the conversation as many performers do — "If you're at the show, come say, 'Hi' " — but he added a postscript: "I'll be the senior citizen wearing all the beads."


David Amram
What: Amram — a founder of the Beat movement, classical composer and jazz French horn player — calls his concert "From Cairo to Kerouac: Classics of Jazz, World Music and the Writings of Jack Kerouac."

---------------------------------------------------------------------------------------------------------------






Renaissance concert
was revitalizing


The concert ... with David Amram conducting the Renaissance Classical Orchestra was the most enjoyable and meaningful one I've been to since I moved here eight years ago. The lovely timeless music of Hayden, Mozart, Bach and others reminded me of the hundreds of years that we have gotten pleasure and joy from listening to these pieces.

Mr. Amram's great charm and vigor at age 75, the young musicians clear adoration of him and the opportunity of so many musicians to do solos, reminded me of the endless passing of love and knowledge from one generation to another.

The exquisite beauty of the church, the timelessness of the music, and the pure enjoyment of watching people who clearly love what they do was so revitalizing to me in a year of great personal loss, a serious illness and flooding of my home. Thank you for the gift of renewal and peace.

Ellen Boynton
Key West

------------------------------------------------------------------------------------------------------------------
FROM CAIRO TO KEROUAC: CLASSICS OF JAZZ, WORLD MUSIC, READINGS FROM ON THE ROAD, AND A SCREENING OF THE 1959 KEROUAC -NARRATED DOCUMENTARY FILM PULL MY DAISY


WITH THE DAVID AMRAM TRIO




10. Week of February 3-9 2006

SANNIBEL ISLANDER

MUSIC NOTES Harold Lieberman

An Interdisciplinary Evening
(This review covers the first half of
the performance before intermission.)

As part of the continuing celebration of renowned musician David Amram
and the late "Beat" poet, Jack Kerouac, an Interdisciplinary evening of
film, music and poetry was presented at Schein Hall on Friday, January
27,2006.

David Amram and Jack Kerouac collaborated for the first
poetry-reading ever given in New York City in October of 1957. Tonight's
participants included, David Amram playing piano, French born, penny
whistles, bass ocarina, Lakota Courting flute, Shanai, dumbek, Latin
percussion and improvised scat vocals, Vince Evans on acoustic double
bass, Adam Amram on conga drums,with readers, Joe Pacheco, Jim Brock and Bill
Highsmith.

The two hour first half of the evening's program started with Duke
Ellington's theme, "Take The A Train." The, trio of piano, bass and
congas was tastefully presented by the three musicians. Pianist Amram has
a sensitive touch in both soloing and camping. His jazz phrases are well
constructed and his bebop roots surface smoothly. Vince Evan's deep and
resonant bass sound and excellent time was reminiscent of the great Ray
Brown, The accents and embellishments of the congas contributed nicely to
the overall presentation.

David Amram improvised on a solo penny whistle and then, with fingers
flying madly, two penny whistles at the same time. It is amazing that he
is able to sustain long eighth-note phrases with one breadth on both
whistles. The texture changed as David and son traded 4s (four bars each)
and then the same format followed with bass and piano. It was a pleasant
jazz exchange and a preview of the camaraderie that was to follow.

The next selection was the showing of the 1959 film, "Pull My Daisy." The
lyrics of the title song were by Jack Kerouac, Neal Cassady and Allen Ginsberg and the
music and improvised scat lyrics were by David Amram. Kerouac first
coined the phrase, "Beat Generation" to label a literary and social
movement in the '50s. The film was produced in a New York loft, from a Kerouac
play about the Beat Generation.

As Kerouac provides a narrative storyline, straight society is represented by the bishop, his disapproving mother and prim sister, who are entertained with drinking, cussing, poetry, and jazz. David Amram blows a few jazz licks on his French horn.

Four selections from Jack Kerouac's, "On the Road: How Jazz/Poetry Was
Born" were read along side original poetry written by Sannibel poets, Joe
Pacheco, Jim Brock and Bill Highsmith. As David Amram and Vince Evans
supplied a slow and easy blues, Joe Pacheco swayed rhythmically as he
read Kerouac's, "Children of the American Bop Night."

Knighted by David Amram as "Poet Laureate of Sannibel," Joe Pacheco read
his own poignant poem, "The Night Charlie Parker Played Tenor,,"a poem
that received national coverage as it was heard over NPR Radio.

Jim Brock read Kerouac's poem, "On The Roof of America" to the accompaniment of
David Amram playing the soothing and resonant bass ocarina. Jim Brock's
poem, "Jim Otto's Dream" was accompanied by piano and bass in a freely
improvised minor tonality that effectively established a dreamlike mood
and enhanced Brock's touching poem.

Bill Highsmith read his poem, "Teen-ager 1970" to the piano and bass slow
and bluesy accompaniment.

Kerouac's, "So in America" was read by Joe Pacheco and was followed by a sensuous reading of Joe Pacheco's poem, "Grand Popper Rap." Joe began the reading of his poem to the accompaniment of congas and small bongo type drums, A subdued Latin tinged beat developed and Joe
swayed and gyrated rhythmically to this beat as he read his bebopish lyrical poem.

The first half closed with David, Neil and Adam playing the title song
from, "Pull My Daisy" written by David and Jack Kerouac in 1959, Seated
at the piano, David talks over his finger clicks and then accompanies
himself singing, Vince Evans's bass walks and skips wondrously and then,
much to my disbelief, David picks up his ice-cold French horn and starts
playing bebop licks with no intonation problems and ends with scat
singing like Bobby McFerrin, This man can do anything!
-----------------------------------------------------------------------------------------------------------------

Below, David Amram and Jack Kerouac (drinking coffee), in NYC, in the Spring of 1959
during a break while filming "Pull My Daisy"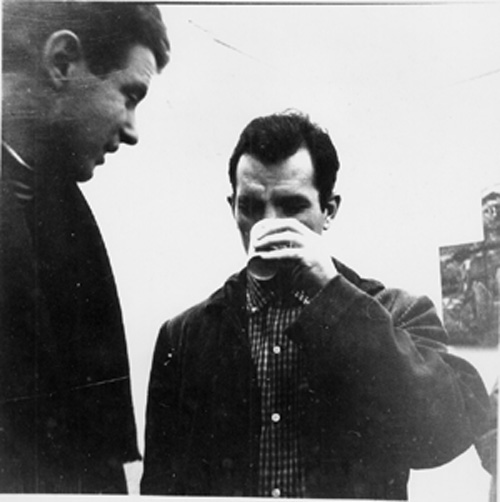 DAVID AMRAM BIO


David Amram has composed more than 100 orchestral and chamber music works,
written many scores for Broadway theater and film, including the classic scores for
the films "Splendor in The Grass" and "The Manchurian Candidate;" two operas, including
the ground-breaking Holocaust opera "The Final Ingredient;" and the score for the landmark
1959 documentary "Pull My Daisy," narrated by novelist Jack Kerouac. He is also the
author of two books, "Vibrations," an autobiography, and "Offbeat: Collaborating With
Kerouac," a memoir.

A pioneer player of jazz French horn, he is also a virtuoso on piano, numerous
flutes and whistles, percussion, and dozens of folkloric instruments from 25 countries,
as well as an inventive, funny improvisational lyricist. He has collaborated with
Leonard Bernstein, who chose him as The New York Philharmonic's first
composer-in-residence in 1966, Langston Hughes, Dizzy Gillespie, Dustin Hoffman,
Willie Nelson, Thelonious Monk, Odetta, Elia Kazan, Arthur Miller, Charles Mingus,
Lionel Hampton, E. G. Marshall, and Tito Puente. Amram's most recent work
"Giants of the Night" is a flute concerto dedicated to the memory Charlie Parker,
Jack Kerouac and Dizzy Gillespie, three American artists Amram knew and worked with.
It was commissioned and recently premiered by Sir James Galway, who also
plans to record it. He is also completing his third book Nine Lives of a Musical Cat.

Today, as he has for over fifty years, Amram continues to compose music while
traveling the world as a conductor, soloist, bandleader, visiting scholar, and narrator
in five languages. He is also currently working with author Frank McCourt on a new
setting of the Mass, "Missa Manhattan," as well as on a symphony commissioned
by the Guthrie Foundation, "Symphonic Variations on a Song by Woody Guthrie."

Amram and his son live on their family farm in upstate New York, when not on tour.

Amram's webpage www.davidamram.com
---
back to writings