MICHAEL BOWEN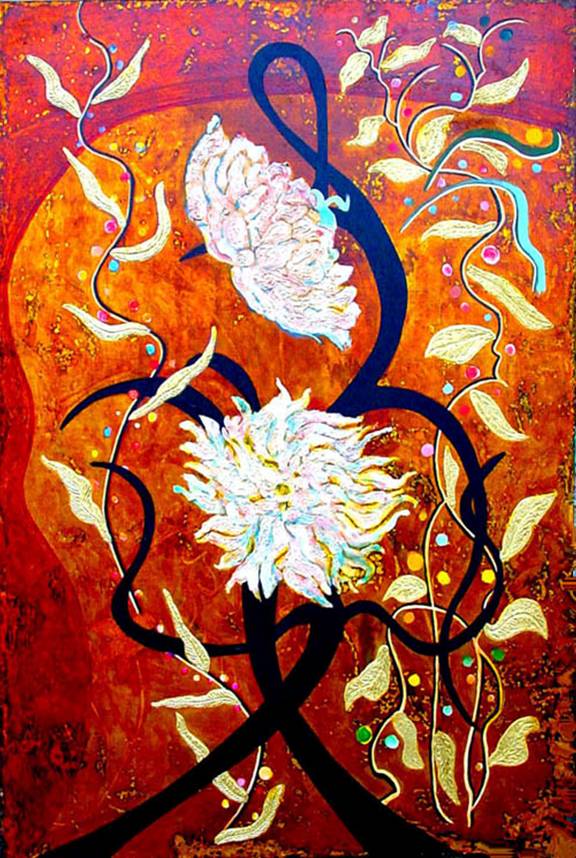 Travelling Mexico - In Search of Magic, Tepoztlán
"The tiny streets get choked with traffic and crowded but when the vender stalls come out, the whole town is like a street fair."
Catherine Krantz
Tepoztlán, south of Mexico City is famous with D.F. daytrippers and spiritual seekers. Steeped in history, ancient and modern, known for its heritage and hippie atmosphere, Tepoztlán is a magical place.
Not to be confused with Tepotzotlán, north of Mexico City, Tepoztlán to the south is 20 miles east of Cuernavaca, nestled beneath the high cliffs of the Tepozteco mountains and the Tepozteco Pyramid. It is the legendary birthplace of Quetzalcoatl, the Serpent God of the Aztecs, 1200 years ago. Quetzalcoatl was a real man who was born in the hills near Tepoztlán, he became the King of Tula and was deified for his great powers and influence. The legend states that his enemies were jealous of his power and decided to ruin him by getting him drunk on pulque. Quetzalcoatl drank too much and made an ass of himself and was so humiliated he left town. (Finally a myth we can all relate to! No slaying dragons here, just fighting off the pulque demons!) It is said he left on a raft made of serpents and birds screaming the Nahuatl equivalent of, "I'll be back!", prophesizing that he or his descendants would return to reclaim his throne. In this most famous version of the myth, lies the explanation for why Montezuma yielded so easily to Cortes, thinking he was Quetzalcoatl returned.
In an odd twist of fate, the Pyramid of Tepozteco, perched on a steep cliff 400 meters above Tepoztlán, was built to honor Tepoztécatl, the Aztec god of the harvest, fertility and pulque. The pyramid is visible as a small white dot on the cliffs towering above the town and can be reached by a steep and winding path of semi-stairs. To get to the path just follow Av. Tepozteco, the main road that leads to the mountain, it dead ends into the path. The ruin itself is more than 50% obscured by the hillside and there are no rooms to enter, the view of the surrounding hills is the reward. The hike will take about 1 to 1.5 hours and is very steep in places and not really recommended for anyone too out of shape or scared of heights--but I made it anyway. The army maintains the site and jogs full speed up and down the path several times a day, just to rub your face in it as you're panting and heaving by the wayside. And if that wasn't enough humiliation, young Mexican girls think nothing of climbing to the pyramid daintily in high heels. I suggest: wear hiking boots, bring water (and the 10-20 peso entrance fee) and get ready for the spectacular views that make it all worth it, just don't look down!
http://www.zihua-ixtapa.com/~anotherday/2000_2001/feb/images/tepoztlan_church.jpg
Tepoztlán, is known as a spiritual place and is popular with artesans, astrologers and seekers of all kinds. They say there is magic in the air. Holistic retreats are held here and people come to this sleepy, charming little town from all over the world. Famous in the 60s with the free love mystics, Michael Bowen lived near here with John Starr Cooke and Timothy Leary came here to seek great philosophical insights.
Tepoztlán is also the site of numerous UFO sightings, I swear. There are actually planning on building an information center here, so many people have seen floating lights over the mountains. They say it's the high copper content in the mountains or the "seven bands of energy"-the electromagnetic waves in the area- that attracts the "visitors". These sightings are so common as to be shrugged off, with many even pre-Hispanic sightings recorded.
There are quite a few artesian and import shops and over the weekends and during the many large festivals they have, there are large crafts markets in the streets. A day can be spent strolling through the streets, stopping in at artist studios -I almost spent my last dime on one particularly beautiful portrait. Or wandering thru the maze-like craft shops and Indian import boutiques: sniffing candles, incense, home made fragrances or perusing healing crystals, herbal teas and hookahs. Or like us, you could easily find a card or palm reader and do some seeking of your own. One card reader was so concerned about my friends' future she gave her a charm to ward off misfortune and then told me she saw a great sweeping romance in my future. Something about a guy on a horse, no wait, that was the tea leaf reader. Oh well, a nice steaming cup of cappuchino on a little colonial balcony overlooking town and we were ready to hit the night spots, of which there are actually a few, mostly cafes and restaurants with bars.
http://www.zihua-ixtapa.com/~anotherday/2000_2001/feb/images/tepoztlan_market.jpg
The night we were there was Halloween and we had the great fortune of seeing an amazing German band that had just come from Mexico City. Somewhere between punk, middle eastern, whirling dervish music and medieval chanting. They were dressed like Mad Max and played strange instruments: drums, lutes, sitars and gourds, under dancing torches of fire. It just seemed so fitting, so Tepoztlán, we bought all their cds. You should definitely try to make it during a festival or holiday weekend. The tiny streets get choked with traffic and crowded but when the vender stalls come out, the whole town is like a street fair.
Accommodations are few and finding a room can be a challenge, with prices that reflect the weekend traffic. We just wandered around town knocking on doors and found a clean little place with single rooms with bathrooms along a garden. It bore a strong resemblance to a line of horse stalls, but was clean and sufficient and the price was right. Perhaps one of the best times to go is for Carnaval, coming up soon, at the end of February. It's the 5 days preceding Ash Wednesday (aka Mardi Gras, Feb 23rd-28th) and involves great revelry, colorful Indian dances, processions, music and traditional costumes. The market swells to three times the size as venders and buyers from all over Mexico converge on the town.
Other festivals include: Feria de Santa Catarina, January 16; The three day "Festival of the Hop", during Easter week- Semana Santa, with dancers; El Reto del Tepozteco, the pulque festival, celebrated on the hill near the pyramid involving copious pulgue consumption, Sept 7; Fiesta del Templo, the Catholic and more sedate version of the pagan pulgue festival, held the next day, with theater performances, Sept 8 and the Cultural Festival of music, dance, theater, art, Nov 1-10.
Go for the magic, the history or just the beautiful mountain vistas, Tepoztlán is a pilgrimage worth taking
__
---
back