Speaking In Tongues
in Honor of Ornette Coleman
From the latest issue of Magnet Magazine
by Mitch Myers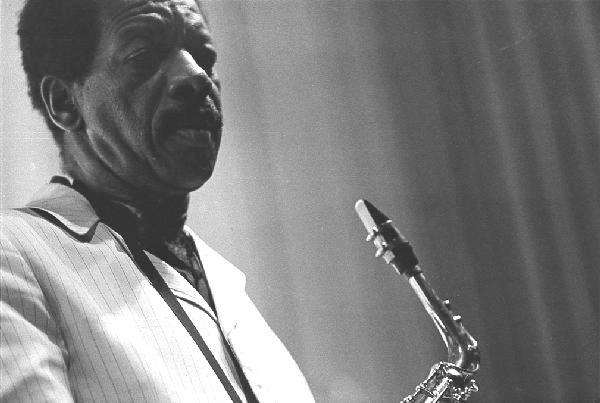 Ornette Coleman photo by Haral Fuchs



There he is, dressed impeccably in a tailor-made suit, holding court at J&R Music World in Manhattan, signing copies of his latest CD for devoted fans. Earlier that day he taped a segment for Black Entertainment Television and later that afternoon, a local radio appearance on WYYC. There he is again, this time engaged in a face-to-face listening session with a journalist from the New York Times and later still, submitting to an interview for National Public Radio's Morning Edition.

No, we're not talking about some veteran rock star or hip-hop's latest mogul/producer—we're referring to Ornette Coleman, one of the most influential jazz artists to emerge in the last century—and he wants to connect with you, right now.

It's hard to imagine that, at the age of 76, Coleman would desire so much exposure, but he does. To be sure, he already possesses one of the most distinctive instrumental voices in jazz (besides alto sax, Coleman plays violin and trumpet). Still, with the unveiling of Sound Grammar, his first new disc in over a decade, and the repeated touring of Europe with his latest band, you could just call it a comeback.

The Fisher King of all jazzmen has recorded more than 50 albums as a leader and performed all across the globe. He twice received Guggenheim fellowships, was awarded a "genius grant" by the MacArthur Foundation and countless other honors in the arts. Over the years, many symphonic ensembles—including the New York Philharmonic—have performed his works.

"Ornette used to not want to talk to the press or anything like that," says James Jordan, Coleman's older cousin, producer and manager. "[But now] you can't believe the photo shoots and interviews he's had. We really have to limit it because it's grueling to be on the road, talking all day and playing all night, but he has really started to participate."

Preparing for another European tour, Ornette gently puts his band through their paces during a rehearsal at his apartment in Midtown Manhattan. The walls of his home are adorned with fascinating artwork, including original pieces that have graced the covers of albums like Body Meta, Dancing In Your Head and Hidden Man. The doorbell buzzes frequently as friends, fans and well-wishers come and go, but Ornette hardly seems to notice—he's more concerned with transposing his tunes into different keys and philosophizing about life and music, which is more or less the same thing as far as Coleman is concerned.

Born to a poor family in Fort Worth, Texas, in 1930, Coleman was seven when his father died and he had to help earn money so that his family could survive. He was a gentle, quiet child, which didn't help matters growing up in racist Fort Worth during the 1930s and 1940s.

Looking back from a position of relative wealth and great prestige, Coleman remembered his childhood as difficult, but ultimately rewarding. "My mother, she loved coffee," he recalls. "She would tell me, 'Junior, go up to Leonard's and get me a can of coffee.' So I would go up there and a little white kid would beat me up and throw the coffee on the ground. I'd come home crying and my mother would tell me, 'Go back, do it again.' Lord, I was going to get an ass kicking, either from her or him—I didn't have any choice! I grew up with hardly any men in the house, I was supposed to be the man. So I kept doing that until I grew out of getting an ass kicking. But I learned a lot being in a mature situation, because of race and that kind of stuff. I really did."

Coleman first became intrigued with music when a band performed at his school. "I asked my mother, could I have a saxophone," remembers Coleman. "She said, 'Yes, if you find a job and make some money.' So I got my shoeshine box and started going out and I'd give her all the money. About a year and a half later she said, 'Look under the bed.' There was a saxophone. I thought it was a toy and I just played it, I'm self-taught—you know? I didn't know anything about it being real so I just played without even thinking about it. I got so where I could get a band together and started helping my mother pay the bills. I had lots of inspiration because there were guys older than me who were playing rhythm and blues in nightclubs."

Still in his early teens and inspired by musicians like Texas saxophonist Red Conners, Coleman convinced his mother to allow him to go out at night and perform at low-down dirty honky-tonks—with his sister Truvenza as chaperone—to earn much-needed cash. Like many of his peers, he started out playing danceable jazz and honking R&B—only to fall under the spell of the revolutionary sounds of bebop.

"I was getting a little older when the style of bebop came out," says Coleman. "Then, I taught myself how to write music because I really wanted to be a part of that scene. I used to like a tenor player by the name of Gene Ammons—I thought he was God."

Coleman graduated high school and was offered scholarships from black colleges, but he declined. Still eager to escape Fort Worth in 1949, he took a gig playing tenor sax with Silas Green's traveling minstrel show. Coleman's sound was already drifting outside of the tonal mainstream, and with his long hair and vegetarian preferences, he did not fit in with the rest of the minstrel troupe. Touring the Deep South, he found his surroundings even more hostile than they'd been in Fort Worth. The police in Natchez, Miss., accosted him, and after a show in Baton Rouge, he was badly beaten by a group of blacks. Adding insult to injury, they threw away his saxophone.

Coleman convalesced in New Orleans, living with a family of musicians before returning home. The music of altoist Charlie "Yardbird" Parker still consumed him. He could play just like Bird and this was a big accomplishment—but just as he'd outgrown the structures of traditional jazz and R&B, Coleman began stretching the boundaries of his beloved bebop and forged a freer, more unconventional style of jazz. Coleman's sense of melody, harmony and time became increasingly offbeat, and musicians accused him of playing out of tune.

Speaking with Ornette today, one can see that he remains an extremely vulnerable and gentle person. It's not hard to imagine people taking advantage of this sensitivity, but beneath his tender nature is a focused determination that has allowed him to pursue his musical ideals.

Coleman explains his transformation this way: "I was playing rhythm and blues, and when I heard Charlie Parker I said, 'Wait a minute, that's got to go!' Then, all of a sudden, I outgrew that! Because it all became kind of stylistic, and I'm convinced that style will never dominate ideas."

The ideas that Coleman is most famous for first came to fruition in Los Angeles during the 1950s. Although the West Coast jazz scene was better known for the smooth swinging sounds of musicians like Chet Baker and Gerry Mulligan, there was an undercurrent of adventurous players like Charles Mingus and Chico Hamilton. Still, almost single-handedly, Ornette launched the advent of free melodic improvisation in L.A. and later, the world.

After his recovery in New Orleans, Ornette returned to Fort Worth in 1950, but had found it very difficult to fit in. Eventually, he joined bluesman Pee Wee Crayton's band, which took him to Los Angeles. There, he ended up in the down-and-out Morris Hotel on Fifth Avenue, where the neighborhood's glory days had passed and the street was something of a skid row. As before, he was regarded as a freak, and consistently derided by his fellow jazzmen. He was broke and living on care packages from his mother. He even lacked the funds keep his saxophone in good repair. But Coleman kept striving to develop his own sound—and he never sold out.

"That's one thing that I escaped," he maintains. "I didn't ever use what I was doing to survive. I always wanted to get better in the direction that I was going and I'm still in that same way right to this very day."

Coleman's luck gradually began to turn in Los Angeles. He was still having trouble finding opportunities to play his saxophone, and for a time he worked as an elevator operator at Bullocks department store. When things were slow he'd stop the elevator and take a few minutes to read his books on music theory and harmony. But he was also encountering musicians who would help him take his ideas to the next level.

Edward Blackwell, a gifted drummer from New Orleans who stayed at the Morris Hotel, wasn't put off by Coleman's approach to improvisation. Despite their camaraderie and late-night jams with L.A. musicians like Hampton Hawes and Teddy Edwards, Ornette was still rejected by the jazz mainstream. He even went back to Fort Worth for a time in hopes of performing, and reconnected with musicians like his cousin James and drummer Charles Moffett.

When Coleman came back to California, he moved into a house with Eddie Blackwell in the black neighborhood of Watts in South Los Angeles. He developed a social network and married Jayne Cortez, who gave birth to his only son, Denardo. He was also rehearsing with old and new friends from Texas, Los Angeles and New Orleans. When Eddie Blackwell went back to Louisiana in 1956, an inventive kid drummer named Billy Higgins was already there to take his place.

Higgins was a cohort of Don Cherry, a teenaged bop-inspired trumpeter who became an integral part of Coleman's group. Not much later a forceful young bassist named Charlie Haden completed the inner circle of musical devotees. There are other Coleman alumni from this early period—including trumpeter Bobby Bradford—and these musicians made up the core of his band for several years.

In 1958, Coleman and Cherry auditioned for Lester Koenig, the owner of the independent L.A. music label, Contemporary Records. Playing in cracked unison, Coleman and Cherry sounded like expressive musical savants and their instrumental voices wandered all around the music's tonal center, subverting the concepts of rhythm, melody and pitch.

Intrigued by their off-kilter approach, Koenig gave Coleman a recording contract. His debut album was called Something Else!!!!, and that's exactly what it was. Coleman's early compositions like "The Sphinx," "When Will The Blues Leave?" and "The Blessing" still had a plenty of formal jazz structure—but they stretched the constraints of conventional bebop.

Coleman made another record for Contemporary called Tomorrow Is The Question! Here, Coleman and Cherry extended their harmonic patterns even further and their solos were more frantic—but the album featured a bop-conformist rhythm section from the studios of L.A. Meanwhile, Coleman's own quartet had coalesced into a dynamic and innovative force, featuring Coleman and Cherry with bassist Charlie Haden and drummer Billy Higgins.

Some critics chafed at Coleman's tweaked bebop variations and dismissed Coleman and Cherry as aesthetic primitives unable to play in conventional modes. This impression was exacerbated by the fact that Don Cherry played a small Pakistani pocket trumpet and Coleman was using an inexpensive white plastic alto saxophone. The two played their quaint instruments in all seriousness, but according to the skeptics they were just unschooled eccentrics playing with toys.

"When I hear people say that Ornette is a primitive musician, it's totally insane," says James Jordan. "We were in the same high school band and reading some very sophisticated music. There was a really good music teacher and we competed in concert playing. We grew up in segregated Fort Worth so everybody our age was at the one high school—it was that competitive. You had to be able to sight read, count and be up to speed—and he was there doing that."

Besides being talented, Coleman has always been able to find the proper players to help him fulfill his vision. One musician came from the closest source imaginable. Denardo Coleman's recording debut came on his father's 1966 album, The Empty Foxhole, which showcased the 10-year-old playing alongside Ornette and bassist Charlie Haden. Critics howled, but Ornette was looking for spontaneity, empathy and freedom rather than technical ability. Since then, Denardo blossomed into a formidable sideman. He's been one of Coleman's main drummers for decades, as well as helping manage his business affairs.

But let's not forget the classic Coleman quartet of 1959. After the two albums on Contemporary, Ornette signed a contract with Neshui Ertegun at Atlantic Records and recorded The Shape Of Jazz To Come, an epic album that contained memorable tracks such as "Lonely Woman," "Peace" and "Focus On Sanity." Coleman and Cherry continued their freeform razzle-dazzle, and the rhythm section of Haden and Higgins was finally showcased as well. Haden's bass playing was no less than volcanic. He originally hailed from Iowa, where he grew up as part of the country act, the Singing Haden Family. Coupled with Higgins' rippling percussion, the group blazed through up-tempo numbers and lavished empathically over Ornette's idiosyncratic ballads.

Momentum was building when he received praise from authorities such as John Lewis (of the Modern Jazz Quartet) and conductor/arranger Gunther Schuller. Lewis made sure that Coleman and Cherry were awarded a three-week scholarship to the annual Lenox School of Jazz event in western Massachusetts, and another firestorm of controversy ensued. That debate was nothing, however, compared to the fuss that was raised when the quartet headed east to perform at the Five Spot Café for their New York debut on November 17, 1959.

The Five Spot was a low-rent space with a high-end reputation located in Greenwich Village at the corner of Cooper Square and St. Mark's Place. Pianist Cecil Taylor played at the Five Spot, as did Charles Mingus, and Thelonious Monk's group with John Coltrane enjoyed a six-month residency at the club in 1957. Coleman had to scrape together the funds for the group to travel from California to New York City, but their two-week engagement garnered so much attention that the gig gradually expanded into a two-and-a-half-month run.

"I got a call from this writer named Martin Williams who said he could get me a job at the Five Spot that was paying about $15 a night," recalls Coleman. "I stayed there for months but everybody thought that I was out of my mind. They said, 'You can't play—there's no way you can play like that.' Oh man—it was terrible because nobody encouraged me. I guess they thought I was just being exploited but I was really getting more and more into it. Don and Charlie and Billy came with me and that was a pretty good rhythm section. I really paid some dues but I didn't change. I said, 'OK, come on—let's keep going until I know I've gotten it right for myself.'"

The controversy filtered down to the jazz journals, and everybody was weighing in on Ornette's band—even classical conductor Leonard Bernstein sat in with the group. Miles Davis, the reigning king of cool derisively said, "Hell, just listen to how he writes and how he plays. If you are talking psychologically, the man is all screwed up inside." Drummer Max Roach reportedly attacked and castigated Coleman, while trumpeter Roy Eldridge exclaimed, "I listened to him all kinds of ways. I listened to him high and I listened to him cold sober. I even played with him. I think he's jiving, baby." He may have been emotionally bruised by the angry reactions to his music but Ornette stayed busy, entering into one of the most prolific and creative phases of his entire career.

While old-school jazzers were split on Ornette's validity, young white bohemians were drawn to Coleman's music, and his shows at the Five Spot sold out nearly every night. The band chose to stay in New York, and when Billy Higgins had his cabaret card revoked, denying him the right to perform in Manhattan nightclubs, drummer Eddie Blackwell miraculously returned to the fold. Using Higgins or Blackwell (and sometimes both), Coleman made a number of excellent records for Atlantic, including This Is Our Music and Change Of The Century. There has just been a re-issue of the rare quartet recording, To Whom Who Keeps a Record, but for the entire trip, one is recommended the six-CD anthology Beauty Is A Rare Thing: The Complete Atlantic Recordings.

Despite his iconoclast status and continuing contributions to modern and free jazz, Coleman is still partial to the classic composers of his generation. "I started composing music and I haven't stopped trying—because this is the opportunity for people to be interested in what you do," he says. "That's not as plentiful in jazz as it used to be. When you hear Thelonious Monk, Bud Powell, Miles Davis or Elmo Hope—lots of people who were into writing instrumental music on the level they are—you don't hear that very much anymore. I don't know why, but there's nothing in the way of it." Although Ornette may just be feeling nostalgic about the golden age of jazz, there are many musicians who would agree with his tough assessment of the current scene.

In 1962, after losing his recording contract with Atlantic, Ornette struck back by renting Town Hall and self-promoting his own concert. The show revealed Ornette's self-determination, as he paid all of the musicians himself and even put up the posters around town publicizing the event. By this time his famous quartet had also dissolved, and the evening at Town Hall showcased a string quartet, an R&B group, and Ornette's new trio with bassist David Izenzon and (his old Texas compatriot) Charles Moffett on drums.

The string ensemble performed Ornette's first foray into the classical realm, a composition entitled "Dedication to Poets and Writers," but the Town Hall concert punctuated another, more dramatic shift for Coleman. He broke even financially at Town Hall that night, but Ornette was tired of working for inferior money and playing inhospitable jazz clubs. After that, he set out to redefine himself as a concert performer and refused to work for less than he felt he was worth—tripling his performance fees. As a result, Coleman barely worked for years, since few promoters in America were willing to match his newly inflated price.

After an extended hiatus, Ornette finally took his new trio to Europe. Still making the transition from jazz clubs to the concert hall, Coleman booked a big show in London. Unfortunately, the British Ministry of Labour labeled him a "jazz musician" and refused to let him perform unless an equal number of British artists were allowed to play in the USA.

Coleman circumvented this arcane political quagmire by reclassifying himself as a "concert artist" and composing another classical piece of music (in just two weeks) to be performed by a woodwind quintet. Ornette was again compelled to finance the show on his own—but the new composition, Forms And Sounds, was performed as part of the Fairfield Hall concert in the London suburb of Croydon.

It was around this time in 1965 that the Ornette Coleman Trio recorded a pair of live albums in Stockholm, Ornette Coleman: At The Golden Circle (Volumes One and Two). The new group with Izenzon and Moffett was far different from Ornette's celebrated quartets, but no less unorthodox. Izenzon had only been playing bass for a few years but he was already breaking new musical ground—plucking and bowing like a master of disjointed time and space. Moffett, much like his predecessors, was just a phenomenally gifted drummer, and the trio's frenzied musical dialogue was truly unique, even in the world of free jazz.

While it has always been difficult for Ornette to create a situation that is completely detached from commercial concerns, he has encouraged his groups to focus on his unusual sonic concepts. "Music is something that is 24-7 in Ornette's life," said James Jordan. "He's always discovering something and learning to him is something that goes on and on. You learn something and that leads you to something else—there's no stopping and saying, 'Oh, I got it.' Learning is endless, the more you know—the more you know you don't know."

Besides using "Sound Grammar" for the name of his new album and record label, the term has a third meaning. It refers to the idiosyncratic philosophy that Coleman used to call his "Harmolodic" theory. While Coleman claimed to have started working on harmolodics as far back as the 1950s, he formally introduced the concept in 1972 on his orchestral recording, Skies Of America.

Skies Of America was lengthy, unwieldy and musically uneven, but you can hear Coleman improvising fearlessly alongside the London Symphony Orchestra. The piece has endured, and he is still performing the controversial composition decades after its debut. The idea of harmolodics, however, has been the source of great debate and confusion, and subject to varying interpretations ever since.

"Harmolodics," Coleman once said, "is where all ideas—all relationships and harmony—are equal in unison." The notion of harmony, melody and rhythm all existing independently (and experienced simultaneously) is the unshackling of traditional music structure—which frees the players to complete their musical thoughts and conversations regardless of song-form. It also encourages the musicians to listen to each other and play "in the moment" at all times.

Those who claim to really "get" harmolodics are, for the most part, musicians who have played with Coleman. Don Cherry defended it, and contemporary players like guitarist James Blood Ulmer adapted to it. Coleman doesn't use the word harmolodic as much as he used to, and perhaps changing the conceptual term to "Sound Grammar" is just another part of his latest push for commercial acceptance. In any language, Coleman's sonic philosophy requires a great commitment from his followers.

And there have been many followers, providing an unending flow of musicians in Coleman's groups. He has mixed and matched bassists in the past, including the two-bass tandem of Charlie Haden with Scott La Faro (and later Haden with David Izenzon). Drummers Blackwell and Higgins have alternated and played together—and the legendary Free Jazz session in December 1960 featured Ornette's "double quartet" with two drummers, two bassists, two trumpeters and two saxophonists. After Don Cherry left the band, Coleman (eventually) restored the element of counterpoint with Texas-born tenor saxophonist Dewey Redman—who stayed with the group even after Cherry's return. Redman's earthy tenor sound stands out on Ornette's later 60's recordings, like Crisis and Friends and Neighbors.

But in 1973, just one year after Coleman recorded the symphonic Skies Of America, he was involved in a very different musical experience. This was in Morocco, playing with the Master Musicians of Joujouka. Coleman was brought to North Africa by journalist/clarinetist Bob Palmer and accompanied by James Jordan, and the ecstatic marathons of Moroccan music making were unlike anything he had ever experienced before.

Expatriate writers William Burroughs and Paul Bowles had previously witnessed the spectacle of the Joujoukan musicians, and original Rolling Stone member Brian Jones made his own pilgrimage to Morocco, recording the Master Musicians in 1968 and releasing the album, Brian Jones Presents The Pipes Of Pan At Joujouka.

Occasionally mirroring his own harmolodic ideas, the Joujoukan masters moved with unspoken unity across tempos, rhythms and melodies. The music also had the power to heal and soothe, something that Coleman witnessed firsthand. The tribe had their mystical side, and a few tricks were played for the benefit of the visiting Americans, but the impression of their sacred music was far more significant. Brief portions of the encounter can be heard on the album Dancing In Your Head, although most of the Morocco recordings have remained unreleased.

"We were in Joujouka and I saw a woman," recalls Coleman. "I don't know if she was drunk or whatever, but she was out of her mind. They just stood right in front of her and played and before she knew it, her face changed, her spirit—everything changed just from that sound! I said, 'Oh, my goodness! You can do that!' But to see it in a human condition, it blew my mind. She got so got so calm and it looked like none of that had ever happened. Well, music got that in it—and it's nothing but sound! You know what I'm saying?"

Not long after playing with the Master Musicians of Joujouka, Coleman decided to go electric. He was stimulated by the sounds of the electric guitar when jamming with James "Blood" Ulmer, and set out to organize a band of young plugged-in players. His 1975 harmolodic group, Prime Time, featured two electric guitarists, Bern Nix and Charles Ellerbee, funk bassist extraordinaire Rudy McDaniel (known as Jamaaladeen Tacuma), and drummer Ronald Shannon Jackson. Soon, Denardo Coleman joined as the band's second drummer.

Inspired by tapes of the Joujouka encounter, Prime Time created a discordant stew of electric jazz-fusion. Dancing In Your Head and Body Meta both signaled the change, and again, Coleman's alto sax came slicing through. Prime Time thrived for over a decade, touring and making albums like Of Human Feelings. Then, in 1987, In All Languages combined Prime Time tracks with brand new recordings by Coleman and his original sidemen, Cherry, Haden and Higgins. The reunited quartet was as sound as ever, and clarified the impact they had on free jazz decades earlier.

The late '80s saw Ornette collaborating with popular guitarists like Pat Metheny and the Grateful Dead's Jerry Garcia. This was followed by another period of relative silence for Ornette, but in 1995 he formed his own Harmolodic record label, re-releasing Body Meta and a beautiful duet LP with Charlie Haden. After twenty years of harmolodic funk his electric band was still changing, and Coleman introduced a new Prime Time album, Tone Dialing.

In 1996, Coleman celebrated a return to acoustic music with twin discs, Sound Museum Hidden Man and Sound Museum Three Women. The two Sound Museum albums have the same tunes and are played by the same musicians. The repetition of material was intended to display the democratic freedom that can be achieved when interpreting material using Coleman's harmolodic—make that Sound Grammar—approach.

So there he is, sitting in his apartment, patiently explaining his life, his work and his eccentric theories to journalists from all sectors of the media. Promoting his new (Sound Grammar) album on his own (Sound Grammar) label, Ornette reveals the same committed DIY aesthetic that has been evident since he self-produced that concert at Town Hall back in 1962. It's also clear that he has maintained his incredibly singular voice. On Sound Grammar, his crying alto is immediately identifiable—perhaps even stronger than it was 40 years ago. The disc is a live recording and it displays his group in a particularly democratic mode. The two bass players, Greg Cohen and Tony Falanga, work in dramatic counterpoint, while Denardo Coleman operates almost vertically on the drums. Recently, during their concert at Carnegie Hall, a third bassist, Al MacDowell, who used to be in Prime Time, joined the group. More recently, MacDowell replaced Greg Cohen for Ornette's latest European tour.

Personnel changes are inevitiable, but for Ornette, it's always about the music. "If there weren't any [musical] keys, you'd have pure sound grammar," he explains. "The second thing is if there wasn't any definite resolution of the idea, you'd have pure sound grammar. The third thing is that if there wasn't any time representing speed for resolution, not only would you be able to play more ideas without filling up bars—but they would eliminate you needing bars at all."

As puzzling as his "Sound Grammar" may be, there's little doubt as to Coleman's cultural significance. Teacher, composer, instrumentalist—he's devoted his life to music and is wholly immersed in his concepts of sound. He still commands big money when appearing in concert and European audiences seem particularly responsive to his art. Whenever he is slated to perform, Ornette composes new material for the concert.

"Any time I have a job, I write new pieces," says Coleman. "It's the only way that I can keep the band interested in the music. It works better for me and I've been doing that for the last 10 years. I'm not doing it to be a composer; I'm doing it to have something to play. When you give a musician something that he really enjoys, then he feels like you're sharing what you want him to do and you're sharing what you do. That's why I prefer writing music because it makes everyone equal."

Through it all, from the beginning to the present, Ornette has been searching, moving forward, refining his sound, expanding his theories and reorganizing his syntax. He's so immersed in his process that when he talks about music he assumes that the listener is right there with him.

"I've learned that changes lead you to how it goes, but it doesn't lead to the idea," explains Coleman. "So, I've been working on the idea. To me, the purest idea in music is modulation, without disturbing the key. In other words, most music is translated, but the melody cannot be translated, only the sounds. That hasn't happened yet. But it's coming. Oh yeah, I'm right on it! I'm definite on it."

There's a humanist element to Coleman—empathy in his music and his existential philosophy. He's listening and looking for a personal connection, and the confluence that he yearns for is revealed every time he plays. No matter where he is in the world, Ornette Coleman is looking to bond with other people. Through his music, he is also striving to attain a "state of grace," the state of one who is under divine influence.

"Right now, at this very moment, I'm struggling to work my spirit and my brain and my intelligence," says Coleman. "I'm struggling with it in relationship to sound. What it does for me now is what it did for me 30 years ago. It will come when it comes. I could get going there and I know the notes—you could stab me and I would still know what the notes are—they're just imprinted. I can't make them sound the way I know that I'd like for them to sound with something that I've never done, but I know it's there."

No longer the jazz firebrand, Coleman is simply an enigmatic elder statesman who commands the respect he so obviously deserves. Most of his early disciples have passed away, including Don Cherry, Eddie Blackwell, Billy Higgins, and quite recently, Dewey Redman. Just as our interview was concluding, Charlie Haden and his wife stopped by for a visit. The bassist was in town with his own band, playing at a Manhattan jazz club for the week. It was the second time in two days that Haden had come to talk with Ornette.

One can only wonder what they discussed.



---
back to writings section