---
New Poetry
---

[Ron Dante]
[Marie Countryman]
[Patricia Elliott]
[R. Bentz Kirby]
[Gary Gach]
[Pete Edler]
[Jim Nasium]
---
The Crucifixion of 0 by Ron Dante

Hyper-capitalism does not believe in
the power of poets.
At best, it is indifferent to them.
This makes it necessary to separate
my identity as an artist from
the work-a-day me where
self-expression is a
conflicting interest is
"Other."

Today a hard-working man can't
even make a living wage from
artifacts lovingly fashioned by
his own hands.

If my situation is observed
scientifically, accurately like
the life of a bug under glass,
like the true weight of
this split identity impressed
upon me---
might the cure for
my nausea, my re-unity
begin with a proper
diagnosis?

Like many of my
Brothers and Sisters,
even as a child of seven
was I a bit like a Rimbaud---
a little rebel already
sensing the creaks in
the ancient family Body
Armor?

But,
what does a child know
about knowing about real and
not-real right and
not-right Self and not-
self?

Still by some medieval
alchemy the crucifix was
passed yet again from the
Great Mother to the
Son forging a new link in
the chain already as old as
the coastal hills of Asia Minor
by the year Zero.

No,
the expanding empire does
not believe in orpheus, free thinkers,
visionaries, amazons, and tricksters but
we will never be short of Jokesters,
a mild night balm for
the wounds.

ron dante

May 1, 2017




---
---
INTOXICATION by Marie Countryman

(for michael and craig)

clouds burst
and rain down
on poets
wandering in street
searching for poetical drink.

suddenly drenched!
clouds burst!
we laugh and turn faces up,
mouths open
to drink in the sky--

leap-frogging puddles,
laughing
tumbling
shouting
splashing!
until, many blocks later
we pour ourselves into the car,
ending
the best
poetical
drunk
by far.

---
---
david o by Patricia Elliott

david ohle
QUIET, WHATS THAT NOISE
ringmaster, orphan, thinking, thinking twisting, turning over rocks.
solid honor, clever charm

he can take a small point,
by twisting and turning it,
show a large amount of light.

he honors love, small warm things
fill him with a wonder that he of
course hides, what does he care.

---
---
Robert Johnson's Crossroads (A tribute to a Blues Man from the crossroads.) by R. Bentz Kirby

Columbia 22
Went down to the Crossroads
Camden 25
Tried to flag a ride.
Sumter 22
Got hellhounds on my trail.
Orangeburg 25
Have my sweet rider by my side.
Crossroads
Jesus Saves
Turn to Jesus or Burn in Hell
Wilson.
Will son.
Will's son.
Will's son cross.
Will's son cross road.
Will's son cross roads.
Will's son cross roads Jesus.
Will's son cross roads Jesus saves.
Will's son cross roads Jesus saves Columbia.
(No he didn't Sherman burnt it! That is why you can't trace title beyond 1865.)
Will's son cross roads Jesus saves Camden.
(Well he might have, ask Cornwallis!)
Will's son cross roads Jesus saves Sumter.
(Depends, one wing in the Persian Gulf tonight.)
Will's son cross roads Jesus saves Orangeburg.
(Crack alleys, murder rate, unemployment, kids with guns, not likely.)
Will's son cross roads Jesus saves or Burn in Hell.
Me, I just want to get some gas and take a piss.
But, it is spooky here, at a crossroads that is exactly 22, 25, 22, 25.
Did Robert Johnson meet ole scratch here, or does Jesus Save?
Tried to flag a ride.
That's what the sign says.
No body seemed to know me.
But maybe that was back in Wilson.
House down by the riverside.
Will cross road son.
Break in on a dollar most any place she goes.
Will road cross son.
They all just passed me by.
Son will cross road.
Got tamales and they are red hot, yeah got em for sale.
Son cross Will Road.
Dead shirmps blues.
Son road cross Will.
Believe it's much too light.
Cross road son will.
She got a mortgage on my body.
Crossroads.
And a lien on my soul.
--
---
---
ciao for now by Gary Gach

ah, ca fascori!
ah, piazzo san marco
ah, vaporetti!
ah, rialto!

---
---

<!- 2006 ->


oui!
by Pete Edler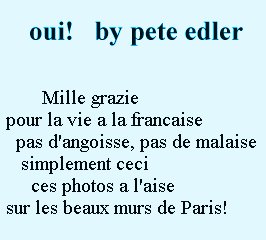 ---
---
A Day With Dali
A Poem by Jim Nasium


A day I spent with Dali
last night in a dream
left me feeling confused
nothing was as it seemed
sitting on the red lips couch
talking on the lobster telephone
Dali and I passed the day away
wile Gala left us alone

Hitchcock's Spellbound was on the TV
Jacky Gleason's Band was on the stereo
Dali let me follow him around
every place he had to go
he gave me some mustache wax
I rolled my moustache tight
pin strip suit with black and white shoes to boot
when we went out on the town that night

Walt Disney stop by to say he was sorry
offered Dali his old job back any time
the folks from Tiffany's apologized too
they way they treated Dali was a crime
I spoke my piece to all of them
then Dali said "thank you"
just another day with Dali
doing what ever we wanted to do...

© 2005 Jim Nasium


---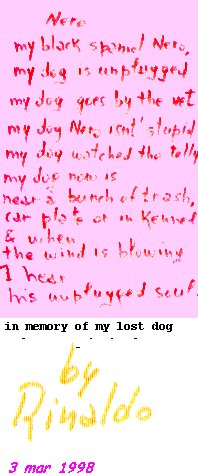 [top]
---
rinaldo rasa 2017